Drinking bottles with individual strap
myRiyan, myPetrolina, myLille & myCasan
We upgraded the popular concept of customisable carrying straps by adding a new clip to the strap. The new 20 mm diameter clip gives you more freedom as the strap can now be removed. In addition, we have extended the family of practical drinking bottles with the Casan XL + XXL and stainless-steel bottle Riyan.
How does the new concept work?
For an individual look, you can combine:
Drinking bottle + strap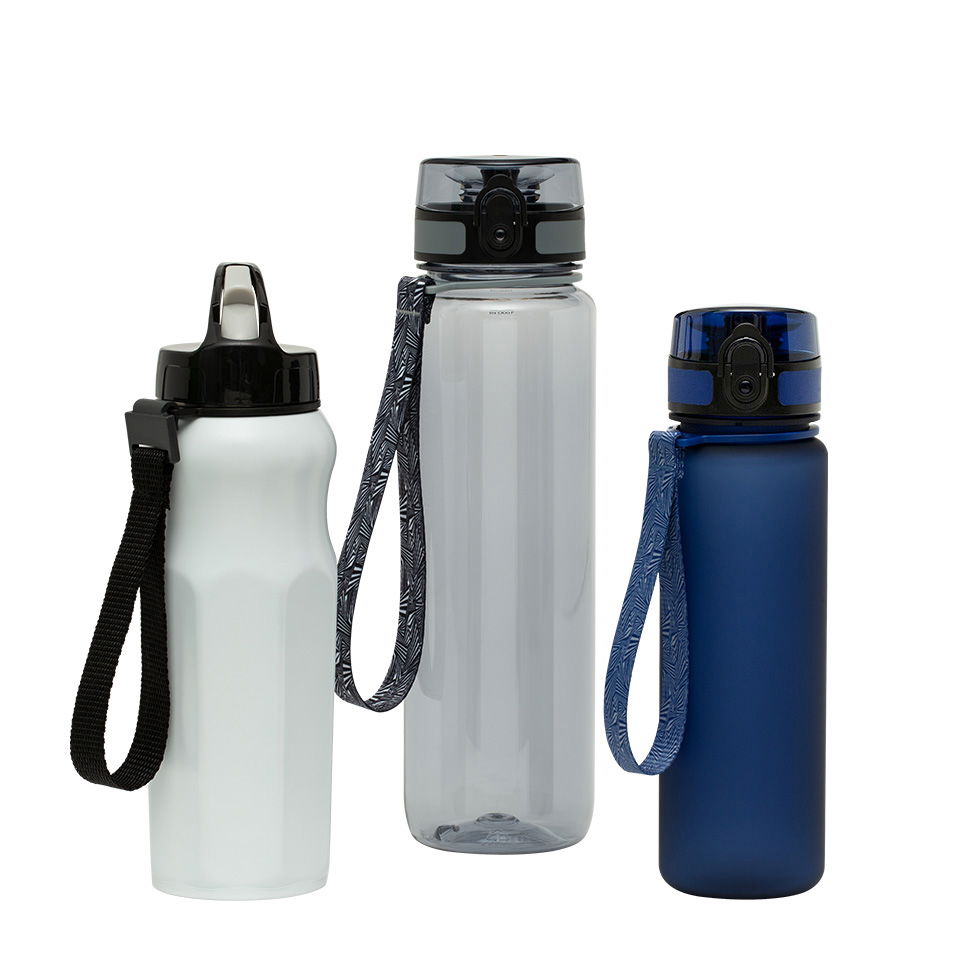 1.

Choose your drinking bottle

We offer 4 models, which are available in different colours and sizes.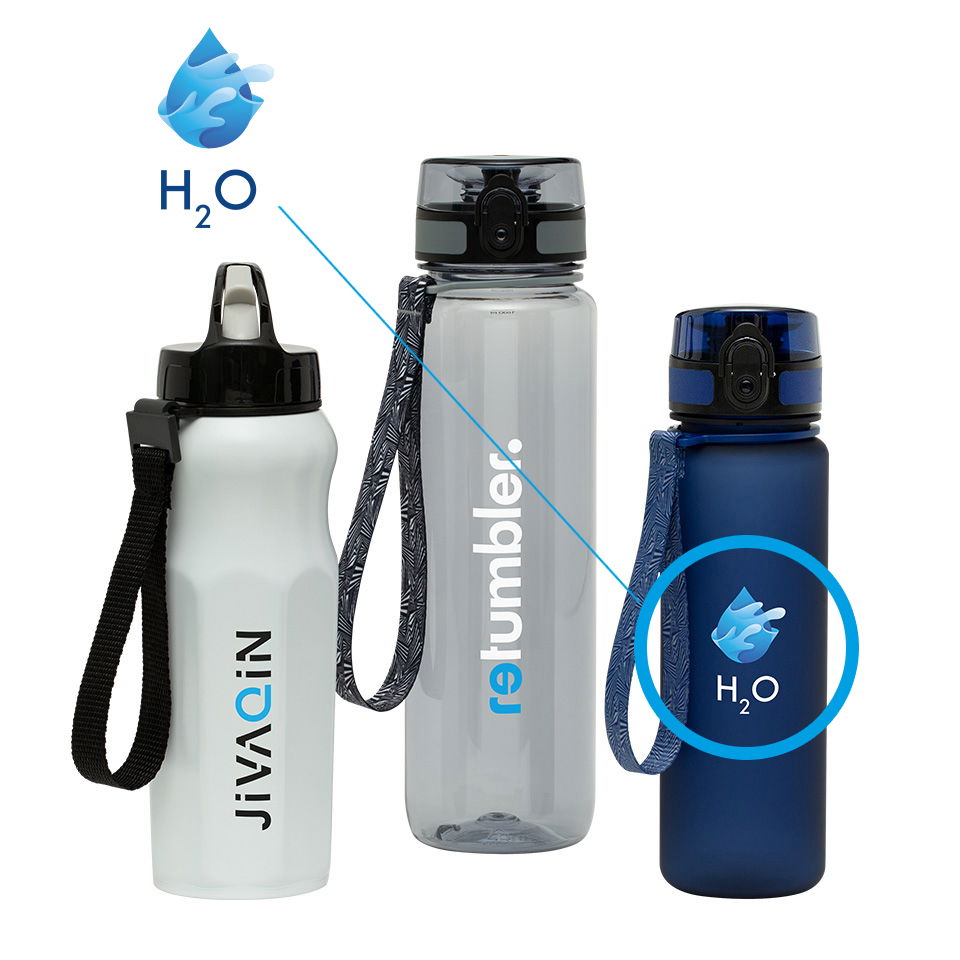 2.

Optionally you can also select a suitable promotional imprint on the bottle.

You have a variety of finishing options to choose from depending on the bottle.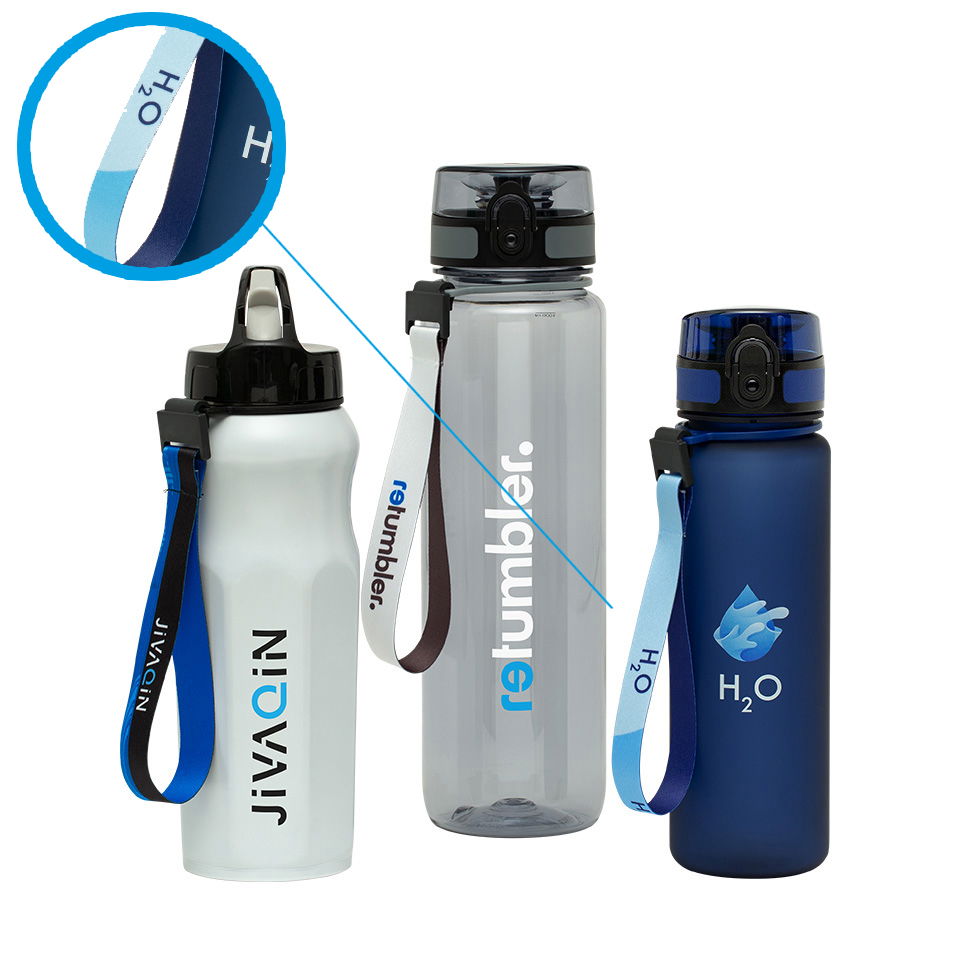 3.

Contact us to design your individual strap

Send an enquiry to your account manager, tell us about your bottle and finishing and discuss the individual design of the handle strap with us.
The strap


A unique design
Individual strap for RETUMBLER® drinking bottles

This is a big step towards more individuality with a corporate design. Decorate not only the drinking bottle as usual, but also the carrying strap with your colours and logo. Ensure maximum recognisability of your brand with an unique drinking bottle!

The strap, 15 mm or 20 mm wide depending on your choice of drinking bottle, is made of polyester and can be printed or engraved over the entire surface by hot transfer. The new highlight is our plastic clip , which can be easily removed if necessary and is practical if you want to clean the bottle in the dishwasher.

Your individual strap will be printed in the EU and shipped expedited to us in Cologne, meanwhile we are preparing your bottles. Our team attaches your straps to the finished bottles and prepares them for shipping. This way, your individually designed bottles will be dispatched as quickly as possible. So enjoy a high-quality drinking bottle with a pleasantly soft strap and fascinating imprints.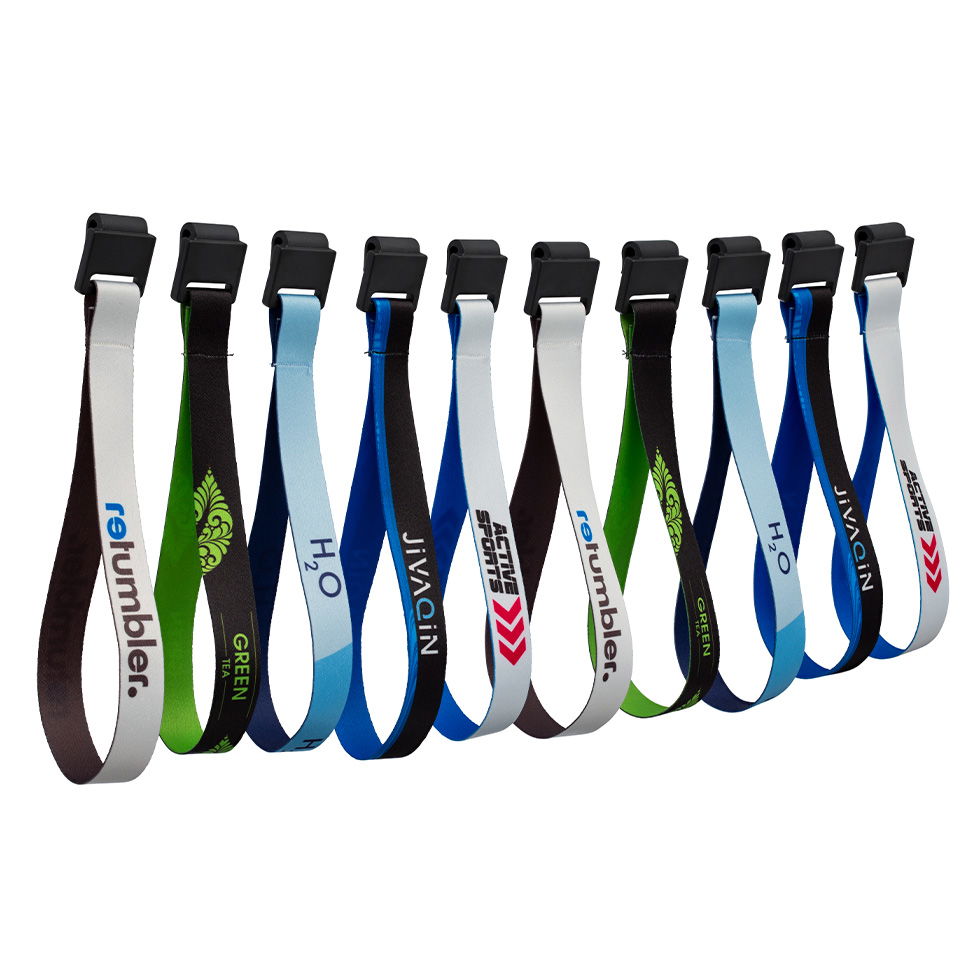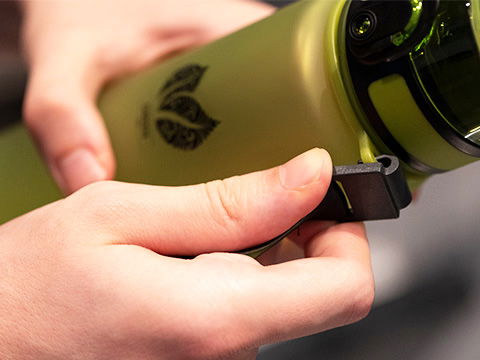 1. Attach the clip to the ring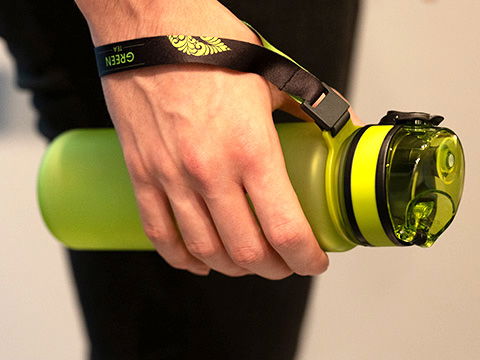 2. Attach the drinking bottle to wrist or pocket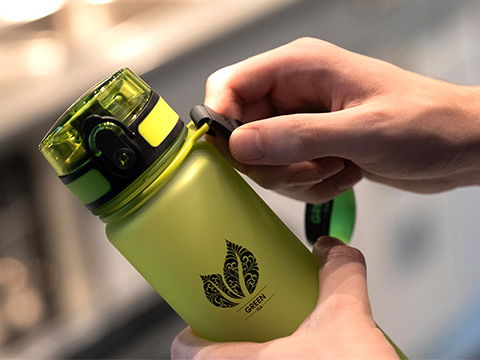 3. Remove the clip
The customizable drinking bottles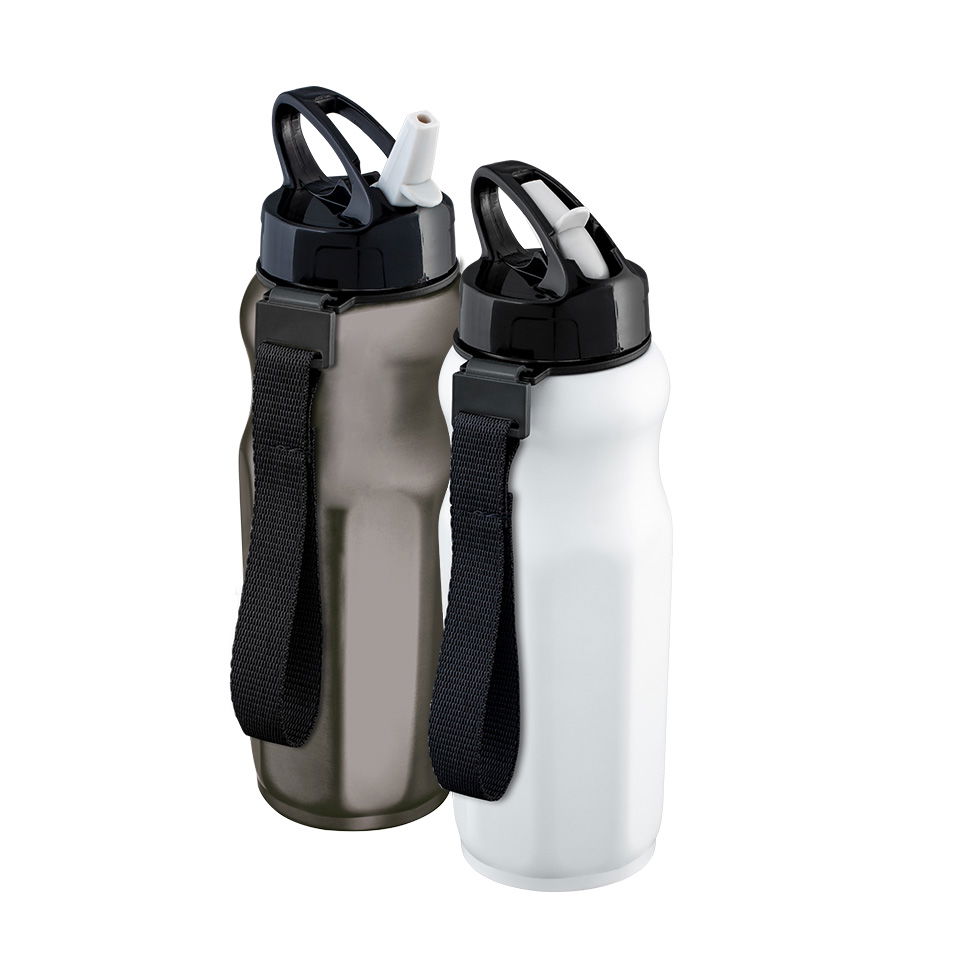 RETUMBLER-Riyan
The elegant stainless steel bottle has a fold-out mouthpiece, which makes it very comfortable to use, especially during sports.
Capacity: 800 ml
Leak-proof
BPA-free
High-quality stainless steel
Hinged lid
Available in white and dark grey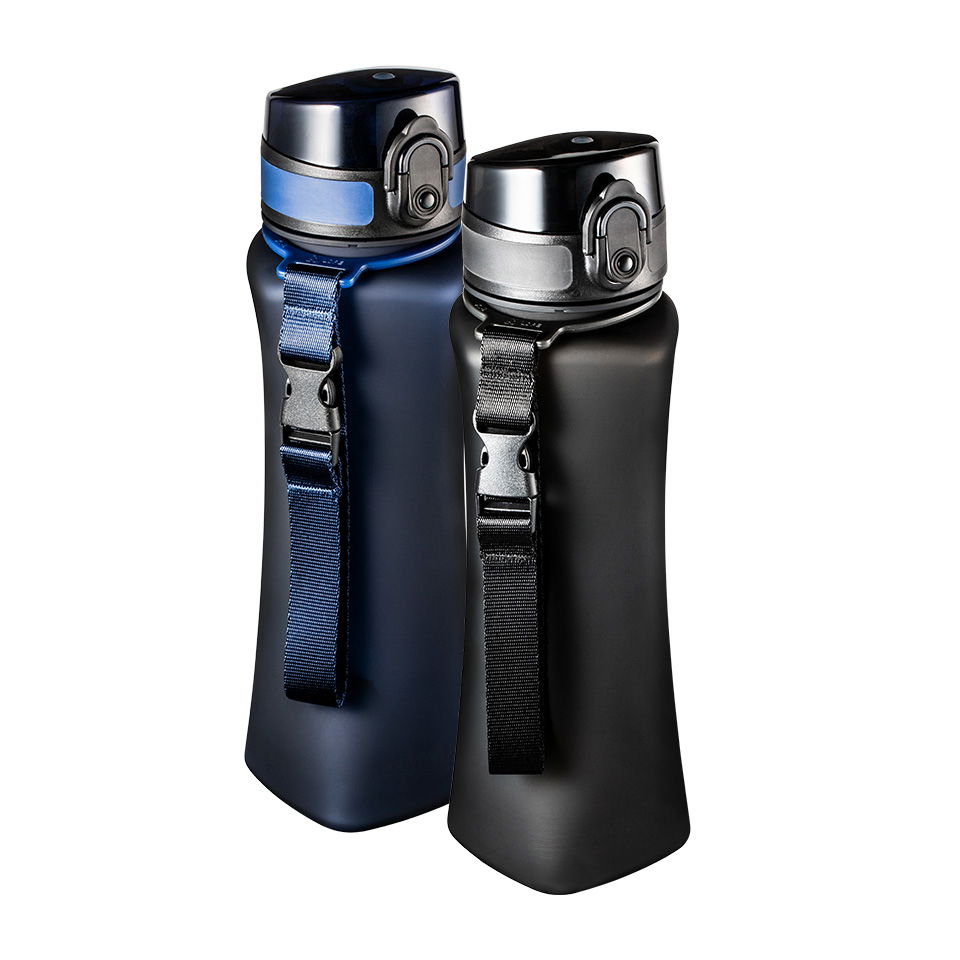 RETUMBLER-Petrolina
The drinking bottle stands out with its curved design and has an embedded strainer for fruits, ice cubes or tea.
Capacity: 500 ml
Leak-proof
BPA-free
Dishwasher-safe
Strainer for fruits
Available in black and dark grey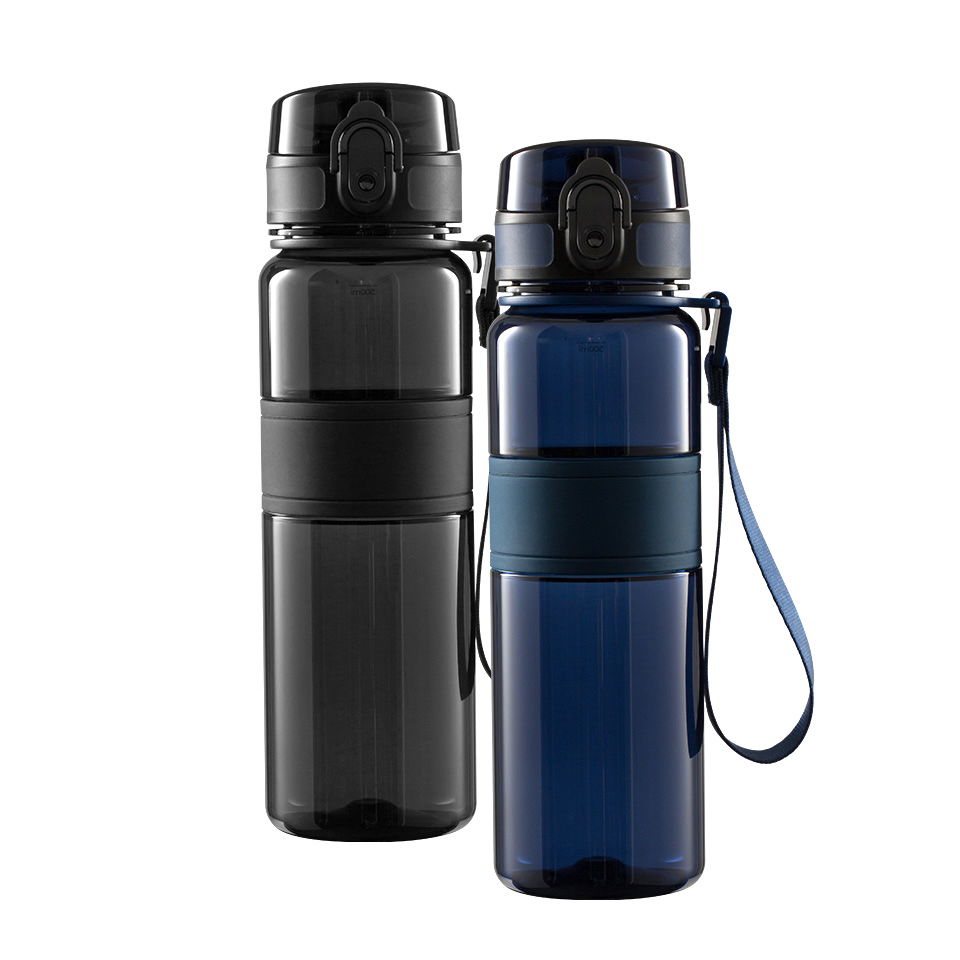 RETUMBLER-Lille
The sports bottle has a rubberised grip area and has a removable strainer insert.
Capacity: 500 ml
Leak-proof
BPA-free
Dishwasher-safe
Strainer for fruits
Available in black and dark grey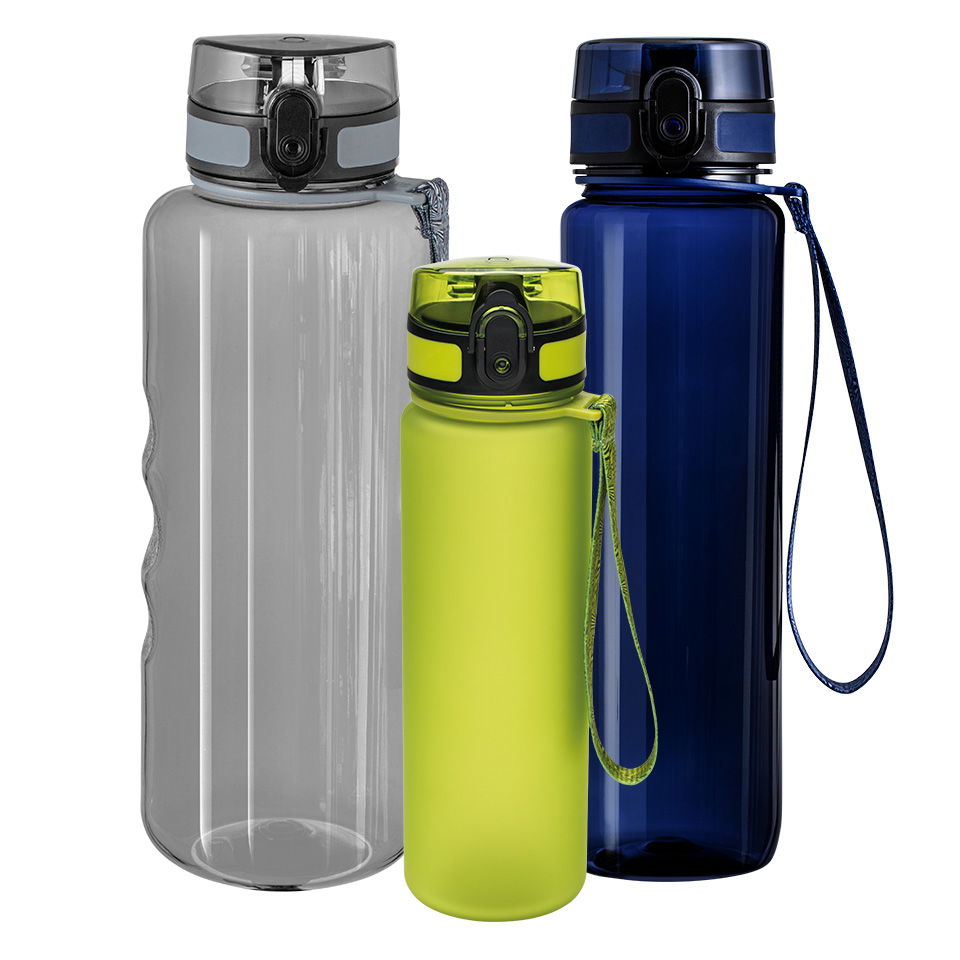 RETUMBLER-Casan & Casan XL & XXL
Our best-selling drinking bottle made of Tritan is available in 500, 1000 and 1500 ml with a closure for easy one-handed opening. There is a wide variety of colours for the 500 ml variant.
Capacity: 500 ml, 1000ml, 1500ml
Leak-proof
BPA-free
Dishwasher-safe
Suitable for carbonated drinks
Various colors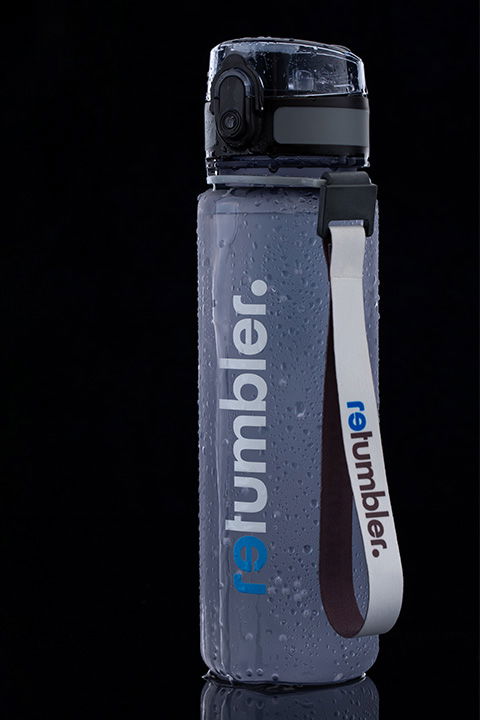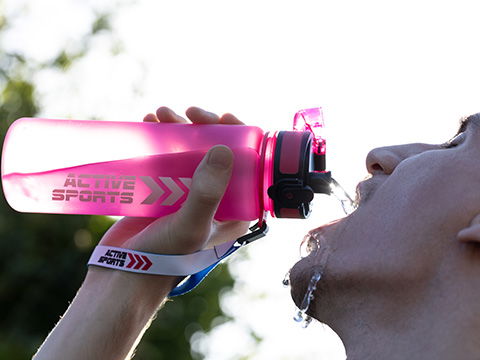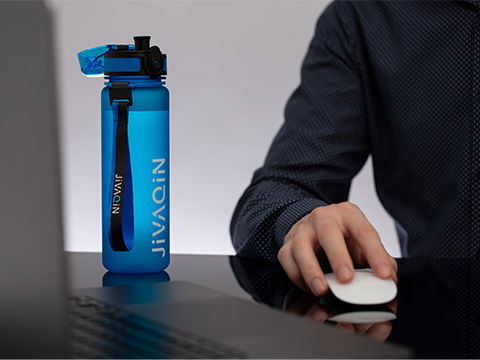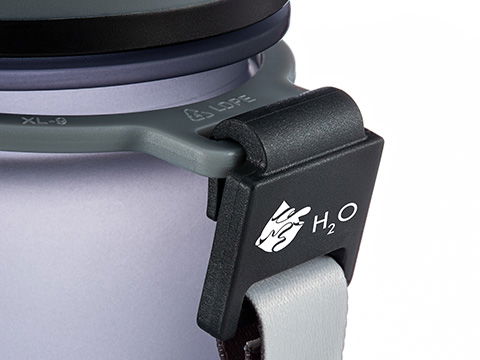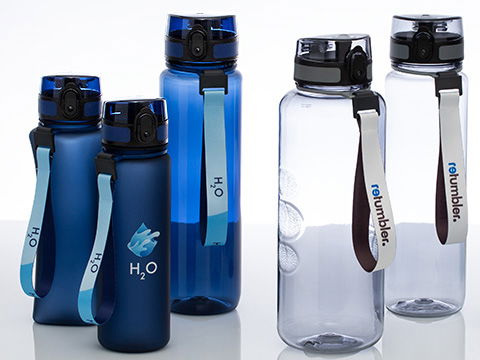 The strap


Do you want to showcase your brand even better?

Our carrying straps are 15 mm or 20 mm wide, depending on the bottle size, and made of durable polyester.

The 4C hot transfer print enables full-surface finishing of the strap. Let your logo or motif stand out on the strap!

We will print your logo on the strap from a minimum order quantity of 100 pieces.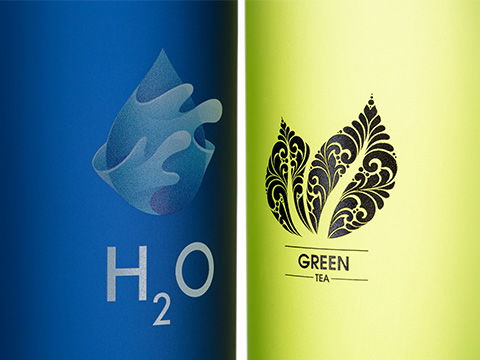 The drinking bottle


Our bottles can be finished as follows:

Riyan:
Laser engraving up to 8cm²
Laser engraving up to 17cm²
Laser engraving up to 26cm²
Pad printing L (1c)
Pad printing S (1c)
Petrolina:
Pad printing S (1c)
UV printing 4
Lille:
Laser engraving CO2 up to 4cm²
Pad printing L (1c)
Pad printing L (2c)
Pad printing S (1c)
UV printing 4
Casan:
Pad printing L (1c)
Pad printing S (1c)
UV printing 4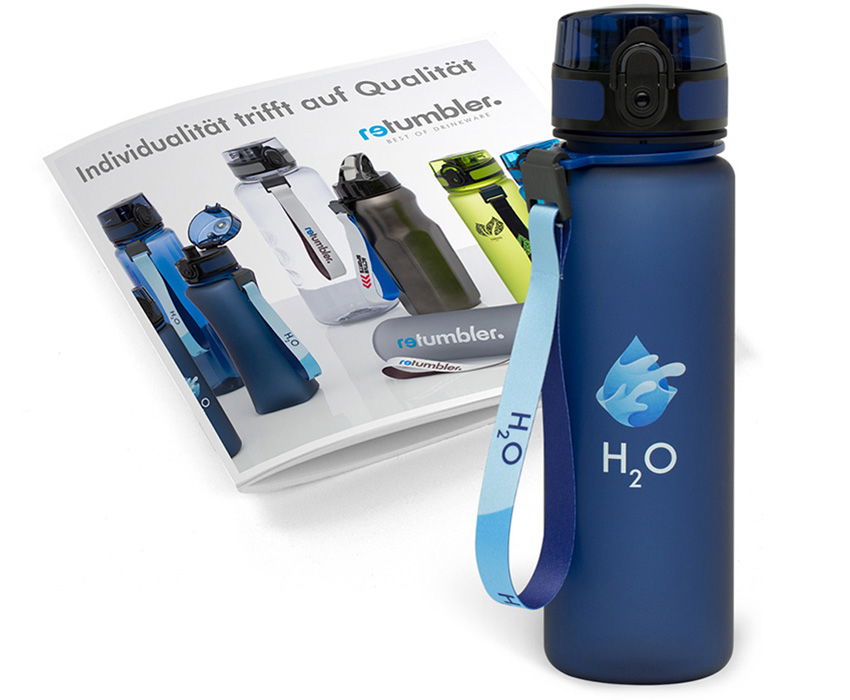 Marketing


Our support for your individual bottles

We are firmly convinced, that our drinking bottles with individual straps deserve the maximum attention. With our marketing materials, you can ensure that they are soon the talk of the town:
Digital info brochure / product presentation with logo visualisation
High quality product photos for download
Samples as illustrative specimens
Other materials on request