Watches by RETIME®
They are extremely useful, generally rather compact and available in so many different designs that there is a suitable model for every customer and style. We are talking about the wristwatch. Most people own at least one. But there are also those who cannot get enough of these useful timepieces. They succumb to a true collector's passion.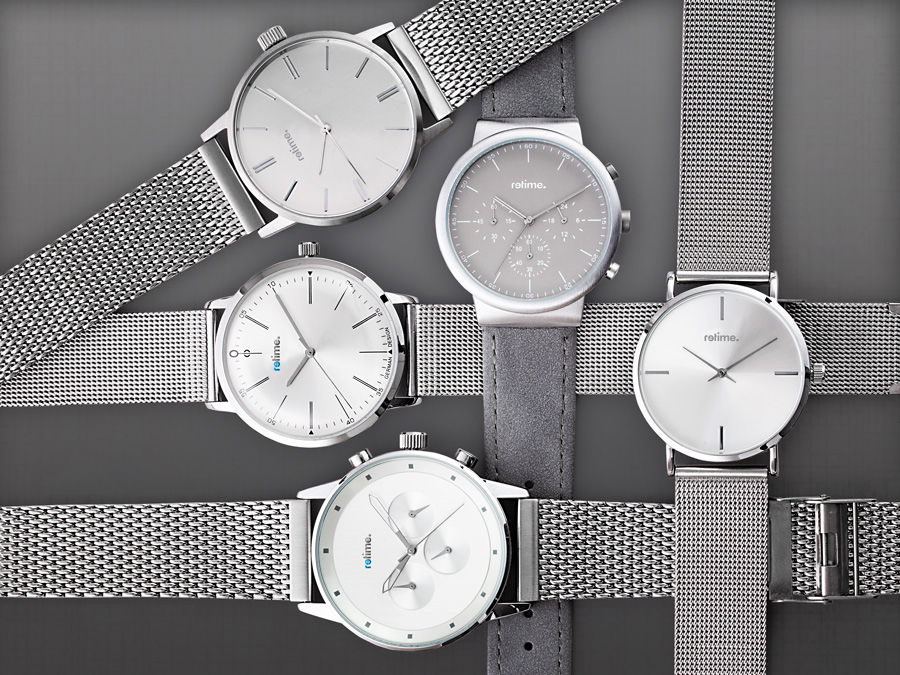 Timeless, stylish, useful.
Watches by RETIME® as premium advertising tool.
Watches combine the decorative with the useful. Not least for this reason they are the perfect promotional product. They offer you the opportunity to place your company logo prominently - directly on the wrist of the wearer. So it doesn't matter whether it's a "hip" model for children and teenagers, a stylish design for today's urban woman or a high-quality chronograph for men who like to be active in their leisure time.
Watches are available for every target group. And for every budget - whether sporty, noble or playful, whether made of coloured plastic or heavy stainless steel. There are also almost no limits to the finishing. Even the most unusual is possible - a printed dial, a fine engraving or a special band transform every watch into a unique piece of jewelry. And into an eye-catcher with which you or your customers literally carry your brand to the public.
Opportunities and occasions for promotional watches
Customer visits to your company
Customer appointments
Birthdays of customers and employees
Holidays like Christmas and Easter
Company and employee anniversaries
Trade fairs and exhibitions
Business openings
Branding
Merchandising
Premium for special customers and business partners
Promotions
Fan articls
Lotteries
Club watch
Incentives
High-quality watches by RETIME®:
Expression of special appreciation.
For many people, the watch has a special status. Often the watch is the man's only piece of jewellery and it is in daily use. Also women love watches as a piece of jewellery and accessory. They are both a fashion accessory and status symbol - and always an expression of the personal style of the individual wearer. Since Smartwatches began their success story, even people with an affinity for technology have been wearing a watch. Until now, these people have refrained from wearing a wristwatch, perhaps because they felt it was "uncool".
Those who want to bring their company as close as possible to its target group cannot do without watches. They help you to place your brand prominently and in the best case daily in the customer's field of vision. Simultaneous they underline the exclusivity of your brand and demonstrate a high customer orientation.
The German promotional products industry association (GWW) summarizes the effect and the advantages of watches as promotional products: According to the promotional products monitor 2019, watches convince with an impression duration and an advertising effect, which is maintained over a long period of time.
Quick check:
What makes a watch an interesting promotional product?
How do you turn a watch into a promotional watch?
It is only minimal details that distinguish a promotional watch from a classic watch. Watches by RETIME® are known for their retail quality and high-quality workmanship. Nevertheless, we can manufacture them at favourable conditions.
But when does a watch actually become a promotional watch? Quite simply: through its finishing. Different finishing areas provide the greatest possible scope for placing your brand prominently.
Time for some background information: Construction and finishing options.
A traditional watch consists of different components. The colours as well as the material can be customised. The traditional watch consists of the following individual parts:
Case
Glas
Clockwork
Holding ring
Shaft with crown
Bottom cover
Straps
Seal
Case
Dial
Hands
Movement
Glas
Straps
The quartz watch.
One of the absolute top sellers among watches, or precisely one of the best-selling movements, is probably the quartz watch. It is characterized by its high reliability. Nevertheless it remains affordable. The whole thing is controlled by the watch's name-giver, a quartz crystal. Shaped like a tuning fork, it sets the pace of the movement.
It is important to know that the raw material quartz is one of the most common minerals in the earth's crust and is therefore not an threatened earth resource. Quartz can also be produced synthetically.
Between the battery and the crystal is the stepper motor. It calculates the pulses of the quartz crystal with the energy of the battery and transmits them in a controlled manner to the movement.
By the way: The fact that the crystal gives impulses at the right speed of time is based on a special physical effect, the "piezoelectric effect".
They automatically catch your eye:
automatic watches and chronographs.
Automatic watches are very special. The main characteristic of this type of watch is its mechanical movement. As the wearer moves his arm, the clock is wound by a rotor inside the watch. These self-winding movements are extremely sophisticated and are often used in high-quality products. No battery or electronic power is required.
Chronographs are also elegant watches with a special additional function. A handle can be used as a stopwatch - independent of the actual movement. This may be a conventional quartz movement or a mechanical automatic movement. Usually a chronograph has two push-buttons on the side of the crown. The upper pushbutton is a start and stop button. The lower pushbutton resets the handle on the main dial to zero or twelve o'clock. In addition, there are several additional (smaller) dials (so-called totalisers). They display the minutes and hours of the time stop. A date display shows the respective day.
What is your watch supposed to look like?
Whether material, packaging or case colour; whether bezel (outline of the dial), crown or hand shape: From a certain order quantity we can customise almost everything for you. We also offer a wide range of straps. Dials can also be freely designed.
If you go for a watch as a promotional product, six essential questions can help you to find your desired watch:
Is the watch for women or men? Or is it a unisex model?
What is the design of the watch?
Which materials should be used ?
Which optical elements are important to you?
What functions should the watch have?
What should the dial look like?
Supply Chain of a promotional watch
Every piece is unique:
individual watch solutions by RETIME®.
RETIME® offers a wide range of standard cases in a variety of designs. In addition, we can also produce your own individual case designs. These can be provided with a high-quality IP or PVD coating. This allows certain colours to be applied to the surface.
The hands can also be designed and produced in a number of ways. In addition to standard models, we also offer hands in special shapes or colours, e.g. a so-called moving disc.
Last but not least, our wide range of packaging guarantees a successful experience. This is offered for every occasion in a wide variety of designs and with additional finishes.
Waterprint, laser and more
Leather, metal or fabric? When it comes to materials for watch straps, opinions and tastes differ. Metal and link bracelets, for example, are more durable and robust than models made of leather or fabric. They are also easier and better to clean. Bracelets made of genuine leather and imitation leather (synthetic leather imitation) or high-quality textiles, on the other hand, are convincing because of their special feel and the feeling of wearing a natural material on the skin.
We can offer you the following variations and materials for watch straps:

Polyurethane (PU)
Real leather
Imitation leather
Fabric
Stainless steel (mesh or Milanaise)
Metal (as link bracelet)
Silicone
Straps made of polyurethane, leather and silicone can also be printed with various patterns using the waterprint process. Stainless steel mesh or Milanaise straps can be lasered.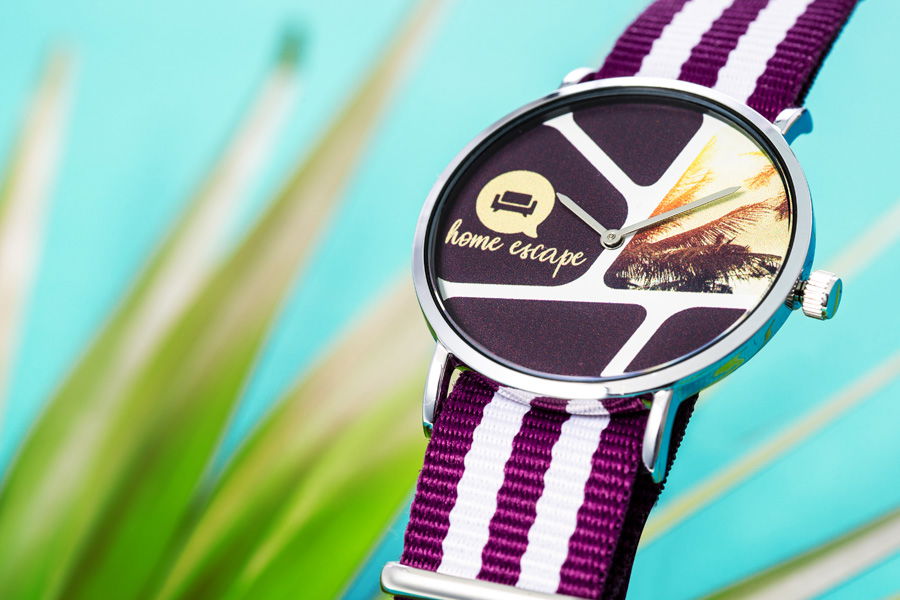 The printed dial
The dials of our watches can be designed freely. There are numerous finishing options available: From sunray-cut to 3D printing, everything is possible. Indexes can be printed or raised (as UP relief). We use processes such as screen printing, offset printing, UV printing and anodising.
The way to "your" dial is done by a few essential steps:
1. Determine your base colour. Then, depending on your wishes, we apply a sunray finish or another optical refinement (e.g. a relief like wood or carbon look).

2. Select the type of index. It can be created by screen printing. Raised versions in polished chrome or fluorescent versions are also possible.
3. Determine the placement of the logo and the printing process.
4. Last but not least, you select the special handle - e.g. an hour disc with logo print or point representation (date and weekday appear as a coloured point).
Your watch with engraving.
The back of the watch case can be upgraded with a laser engraving. This looks noble and discreet at the same time. At our Cologne location, we can also personalize your dream watch.
In any case, a watch with a filigree engraving has an optimal advertising effect and enhances the image of your brand or your company. As a special personal gesture, it will remain in the recipient's memory for a long time - no matter whether he or she is a premium customer or an employee.
Think about giving a gift: gift packaging
Whether a luxurious metal box or practical lid box, frosted plastic box, exquisite ornamental box or an unusual case, there is a perfect gift box or packaging for every watch. Depending on the type of packaging, the watch is perfectly presented, sometimes in a stylish upright position or in a classical way with a soft cushion. Otherwise: Our packaging can also be customized. Engraving or pad printing on stickers or banderoles there are many options. Of course, this always depends on the material and condition of the packaging as well as on the required quantity. Contrary to expectations, if you do not find a suitable product in our packaging selection, we can also produce individual packaging for you on request.

How time flies:
Passion for promotional watches since 2001.
In 2001 we at REFLECTS® started to design our own promotional watches and produce them in-house. An essential focus has always been on the development of customized concepts. Our claim then and now: We want to make everything possible - with efficiency, competence and a lot of passion.
The first watch was called "Lolliclock". Our TIME catalog, which we have been publishing regularly since 2006 we present the entire range of REFLECTS® watches and that is really something to be proud of. Over time, a complete watch world has been created - with more than 250 models in different design lines or collections: Sport, Pilot, Design, Lolliclock, Classic, Chronograph, Basic, Automatic (plus Smartwatch) and Fitness Stracker/Pedometer. This portfolio is complemented by nurse clocks, world time clocks, table clocks and wall clocks, as well as by the possibility to realize even unusual ideas such as private label solutions. As a consequence of our love for watches and our expertise, we decided to create our own sub-brand RETIME in 2019. RETIME® is a lovingly staged watch brand, specially developed for the great presentation in the promotional items and merchandising market.
The wide range of watches and timeless collections offers a high level of flexibility, which enables the development of individual watch concepts. We employ our own watchmaker. She ensures that everything literally runs smoothly at all times with our watchmaker full service. The employees of our Cologne repair service also know their job. We focus on long-lasting quality. On request we can install movements from Miyota, Japan even from a small order quantity. Since its foundation, Miyota has been part of the Citizen Watch Group. It develops precise mechanical movements and quartz movements of the best quality. Thus it fulfils the highest demands of the luxury class.
Even though the RETIME® range of watches is characterized by its particular diversity of models, all watches have something in common: On the one hand, the 24-month warranty (does not apply to wearing parts such as straps). On the other hand, they can be refined, for example by individual engraving. A process that is particularly used for gift watches.
As a manufacturer of high-quality watches, we are of bound by certain laws and guidelines. This means for us that we always act in conformity with the EU, e.g. we pay the corresponding taxes (e.g. EAR law, battery law) and also comply with the legal requirements for import and logistics.