The REFLECTS® website and online shop
Are you familiar with all the services and possibilities offered by our website? The REFLECTS® webshop is available to you 365 days a year, around the clock. It offers you the possibility to access our products and services at any time.
We are constantly developing our online shop and offer you various applications. This includes, for example, the calculation of your advertising placement or the configuration of certain products directly online. In addition, you can manage your own data and orders with webshop account.
On this page, you will find detailed information on how to make the best use of our website and online shop. In addition, we provide detailed information about our web tracking and what this means for you as a website visitor. In the following, switch to a topic on which you would like to receive more detailed information.

The website "header":
Navigation, search & login area
The website "header" remains on all sub-pages. There you will find our search bar, navigation, company logo, contact details and icons with links to login, notepad and shopping cart.

Tip: A simple click on the company logo will always take you back to the homepage.
Navigation: Shop and content:
In the main navigation function, you will find our shop, as well as all information about our company, our products, special services and inspirations for promotional items.

Move the mouse pointer over the desired category to display several sub-categories. On mobile devices, the top navigation is in a fold-out menu.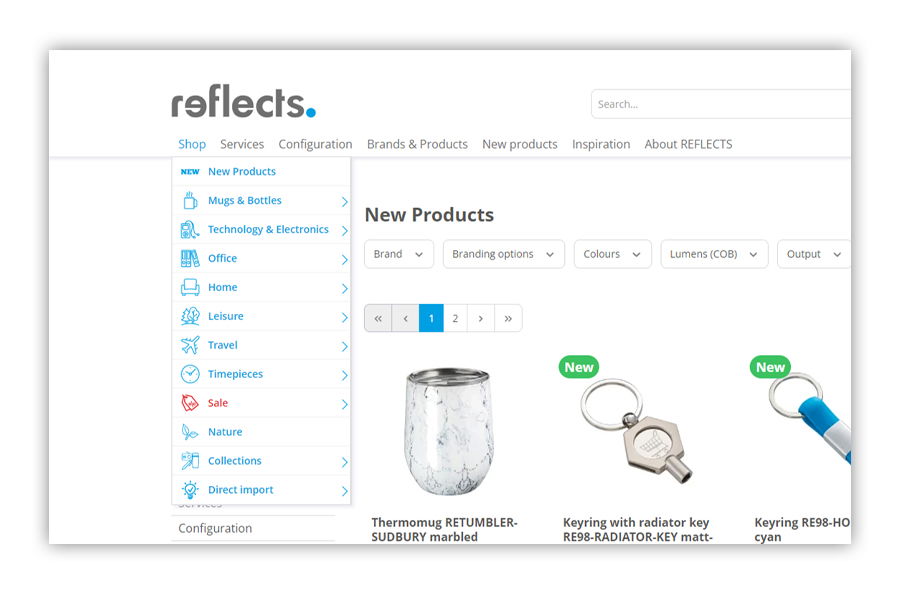 Shop:
Our entire product range ex stock Cologne is available for you in our webshop. You will receive detailed item information, current stocks, variant and price details and information on advertising placement.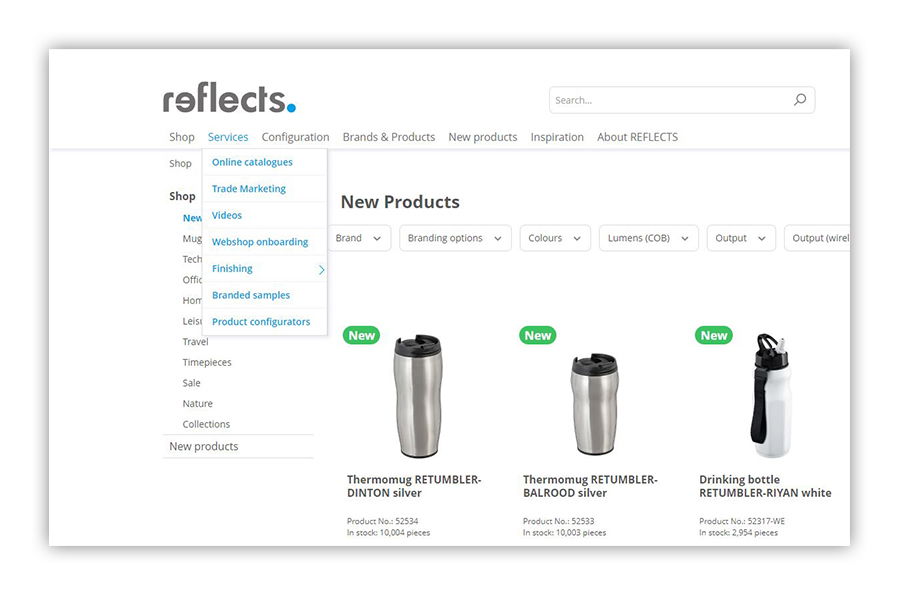 Services:
Online catalogues: View and download our online flip catalogues for our brands and configurable products.
Trade Marketing: Here you will find all promotional materials and marketing services for retailers.
Videos: Are you looking for a more visual illustration of our highlight products? Then you are in the right place!
Webshop-Onboarding: All functions and services of the webshop are explained here.
Finishing: Here you will find information on our in-house customisation as well as more detailed information on doming, laser engraving, pad printing and UV printing.
Branded samples: Here you can find our samples of selected products with sample finishing available for ordering.
Product configurators: Would you like a brief overview of all configurable products? Here is the quick access to all configurable products.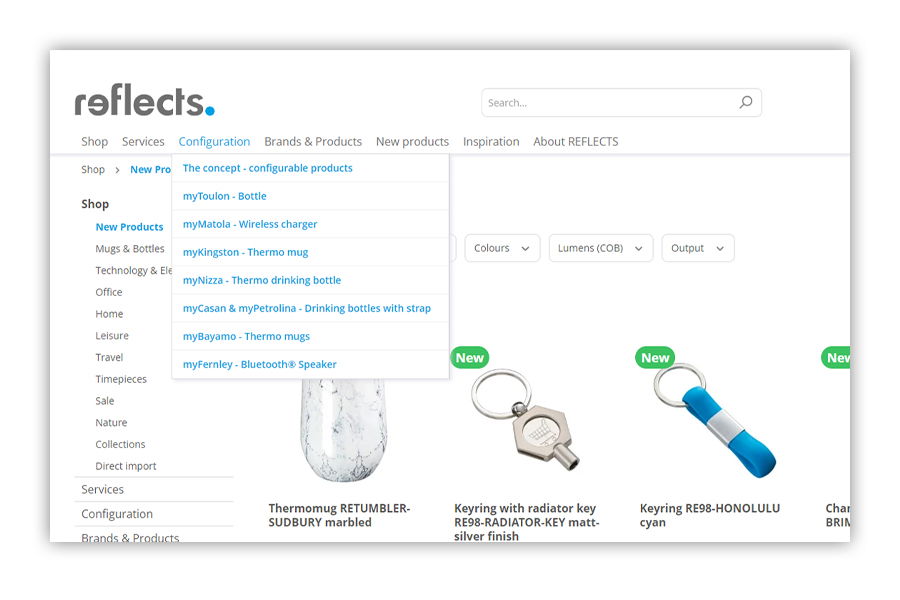 Configuration:
Here you will find detailed information on our configurable "my" products. Each product has its own page and contains a lot of information about the product and the available possibilities.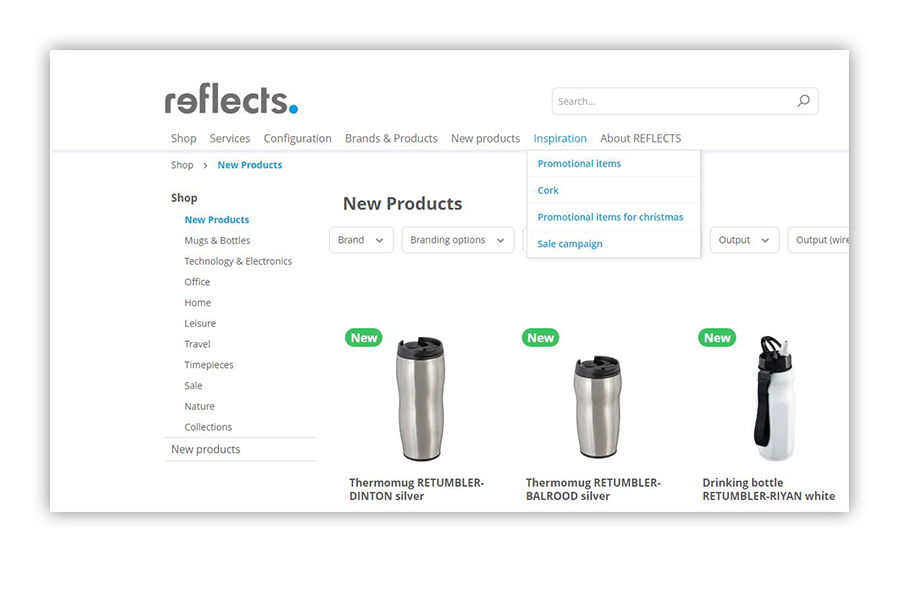 Inspiration:
Looking for ideas for promotional items for special occasions like Christmas or a sustainable product for a green campaign? Then you've come to the right place in the Inspiration section.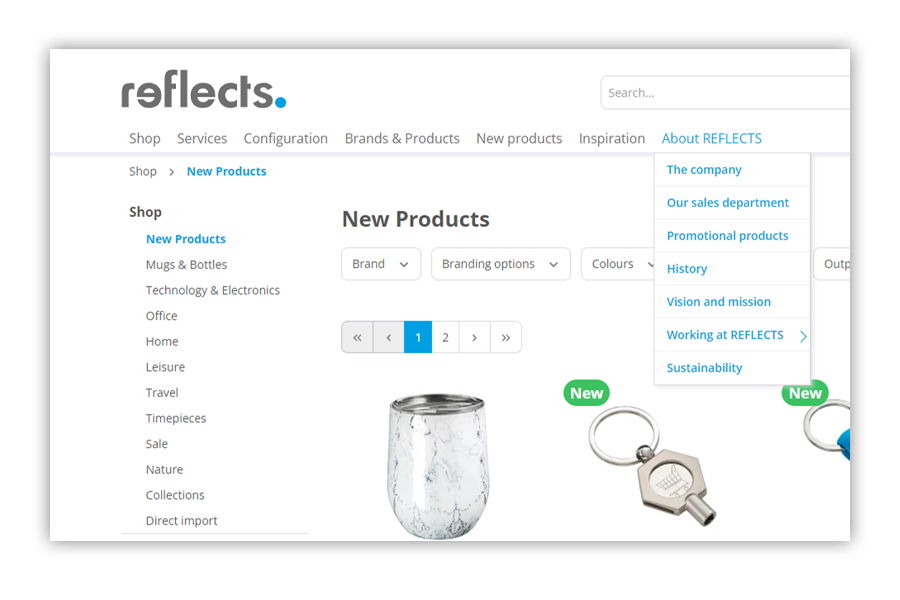 About REFLECTS®:
In this category, we provide general information about our company. Here you can find our sales team with the corresponding contact information. In addition, our job offers are published here. We also convey our company history, as well as the company's attitude and values under this heading.

All's well that ends well – The website footer
The footer is a section of a web page. It is located at the bottom of the web page and remains the same on every page. Here you will find important information such as our address and telephone number, our terms and conditions and data protection information.
Follow us:
Here you will find links to our social media channels such as Twitter, Facebook, LinkedIn and YouTube.
Service:
Contact: If you have any questions about our products, services or other requests, please use our contact form.
T&Cs: Our General Terms and Conditions are always available to you in the footer.
Information:
Legal Notice: Legal information about the website owner
Sitemap: Complete, hierarchically structured overview of all sub-pages of the REFLECTS® website.
Jobs & Career: Our current vacancies
Info & Press: Current press releases and information for our customers
Data Protection: Our detailed data protection information
Cookie settings: Please choose by yourself which cookies you would like to approve.
Current catalogues:
You can discover our new online catalogues with just one click.
Note text:
As a B2B shop, we indicate further information on the price with an asterisk. This text is displayed in the website footer. Our prices are quoted net, plus statutory value added tax. Shipping costs and cash on delivery charges may apply.
The product listing
The product listing is the overview of all products in a category. It can be more than one page, depending on the category. The listing shows simplified product information.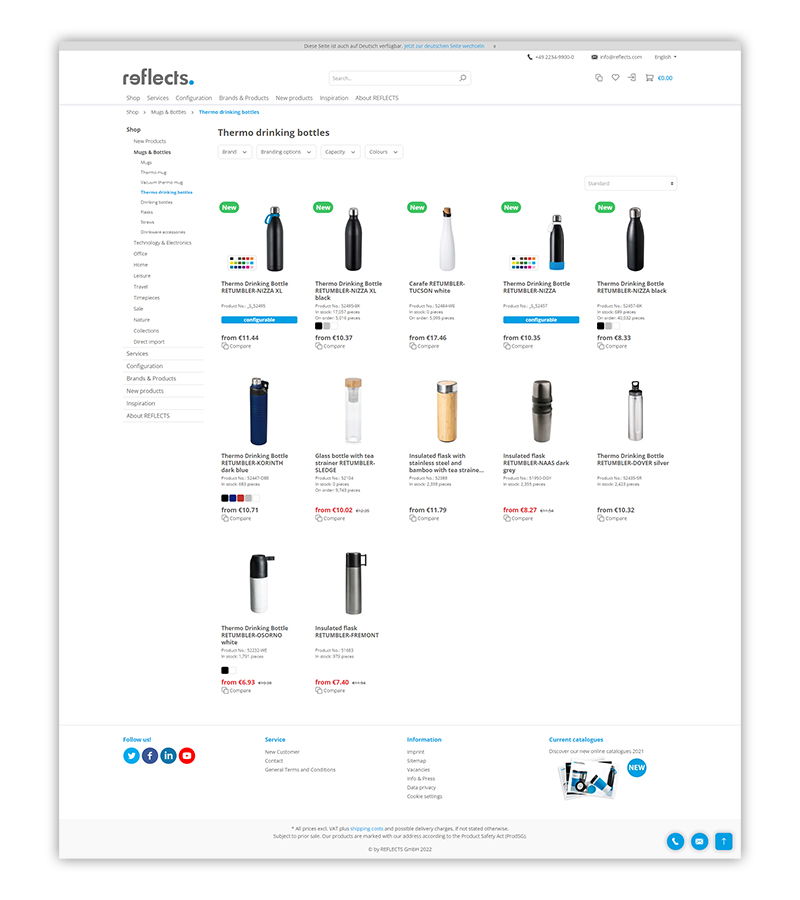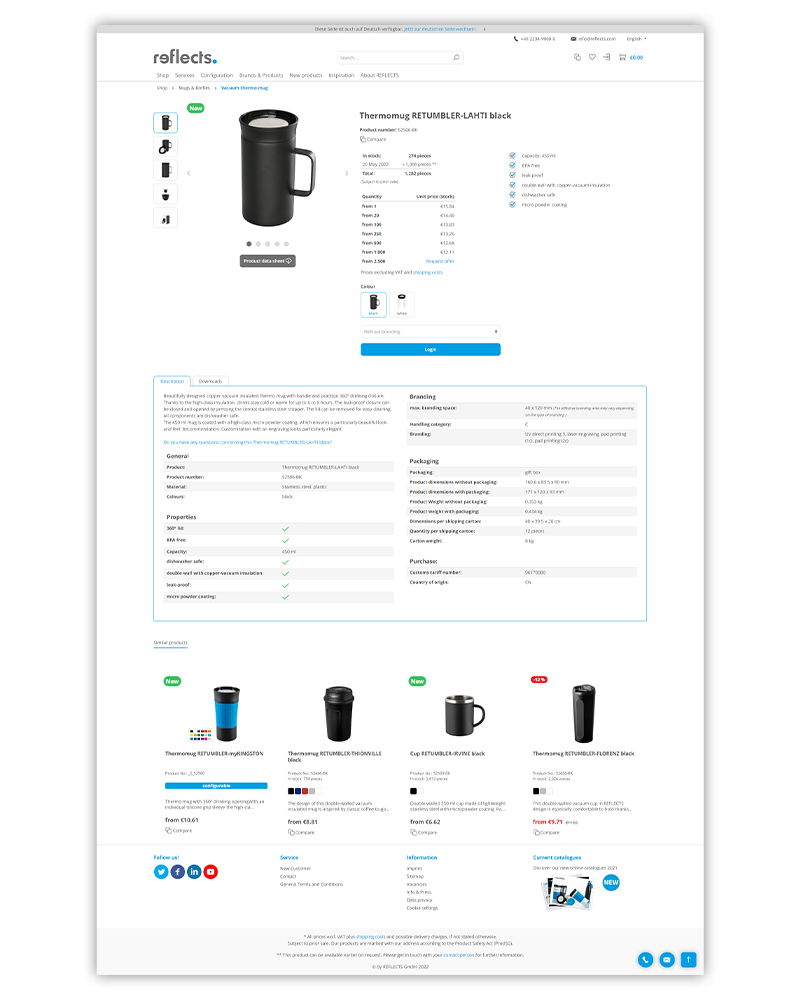 Calculate advertising placement online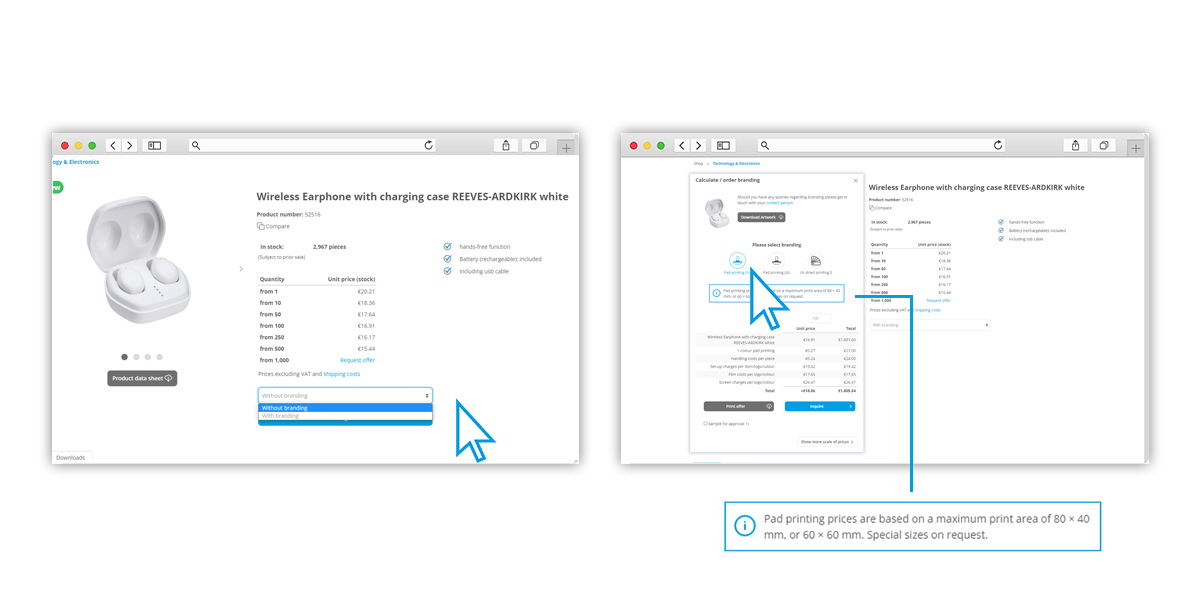 Select finishing:
To access the calculation, select "With advertising placement" on the product page in the drop-down menu located below the prices. In the standard version, "Without advertising placement" is always preselected. A window opens, showing you the available finishing types suitable for the product in the form of icons with labelling.
There you select your desired finishing by clicking on the icon.
Please note the info box indicating the available print size for the product. The possible print areas result from the final artwork. You can download them via a button.
In the next step, you must enter your desired product quantity in the number field. You will then receive a transparent overview of all costs incurred. If you would like to receive a preliminary sample for your order, you can select this option by clicking on the tick.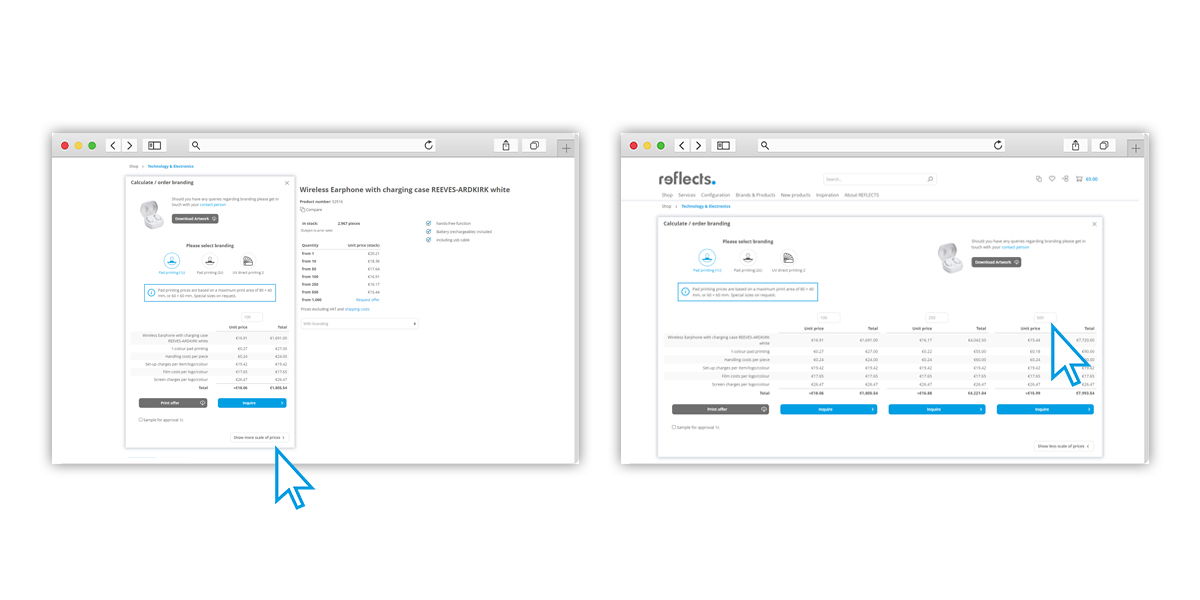 Compare scales and place order:
Click on the button "Show more scales" so that the advertising placement window expands by two more scales. Change the quantities in the payment fields to compare costs. You can then download the offer via "Print offer".
If you are not logged in, you can download the offer with industry price and/or make an enquiry. If you have webshop access, you can add the desired quantity to the shopping cart. You can also upload the graphic files for your product via the shopping cart.
This is how it works:
Selecting and configuring a "Wow" product is easy. Go to the navigation item "Services" and select the sub-item "Product configuration". There, you can decide on the product of your choice by clicking on the tile and are automatically taken to the configurator.
Each colour of the individual components can be selected individually. The dots on the left correspond to the colours available for the product. You can click on them as often as you like until you get your desired colour combination. The product image makes it easy to track any changes you make. The inventory is updated depending on the selection and availability of components. If gift wrapping is not included, it can be chosen separately. The packaging image is displayed by moving the mouse pointer over the "Packaging" box.
Transparent web tracking and data protection
What are cookies?
At the beginning of your visit to our website, you will also be asked which cookies you wish to accept. Cookies are small blocks of data that websites can store on the visitor's device. This can be, for example, information about the language selection, the visitor's time zone or session information for the shopping cart function. Generally, according to the General Data Protection Regulation (GDPR), user consent must be obtained before a cookie is stored. It must also be disclosed which cookies are used. Technically necessary cookies do not require consent. All data is anonymised and encrypted.
Are cookies generally bad?
Not in general, but a distinction must be made here: Cookies are a common means deployed on the web to provide or improve offers for users. The functions of cookies are manifold. For example, there are cookies that are necessary for the proper function of an online shop, e.g. for the language selection of a website or the login status.
Some cookies are used to identify and track a user. This sounds strange at first, but it is essential for the website operator. Only in this way can it be determined how many customers visit the shop and which pages they access. This is the so-called statistical web tracking.
In addition, cookies are used for web services that generate personalised advertising for users. In the process, data is passed on to third parties. It is important to differentiate between these cookies.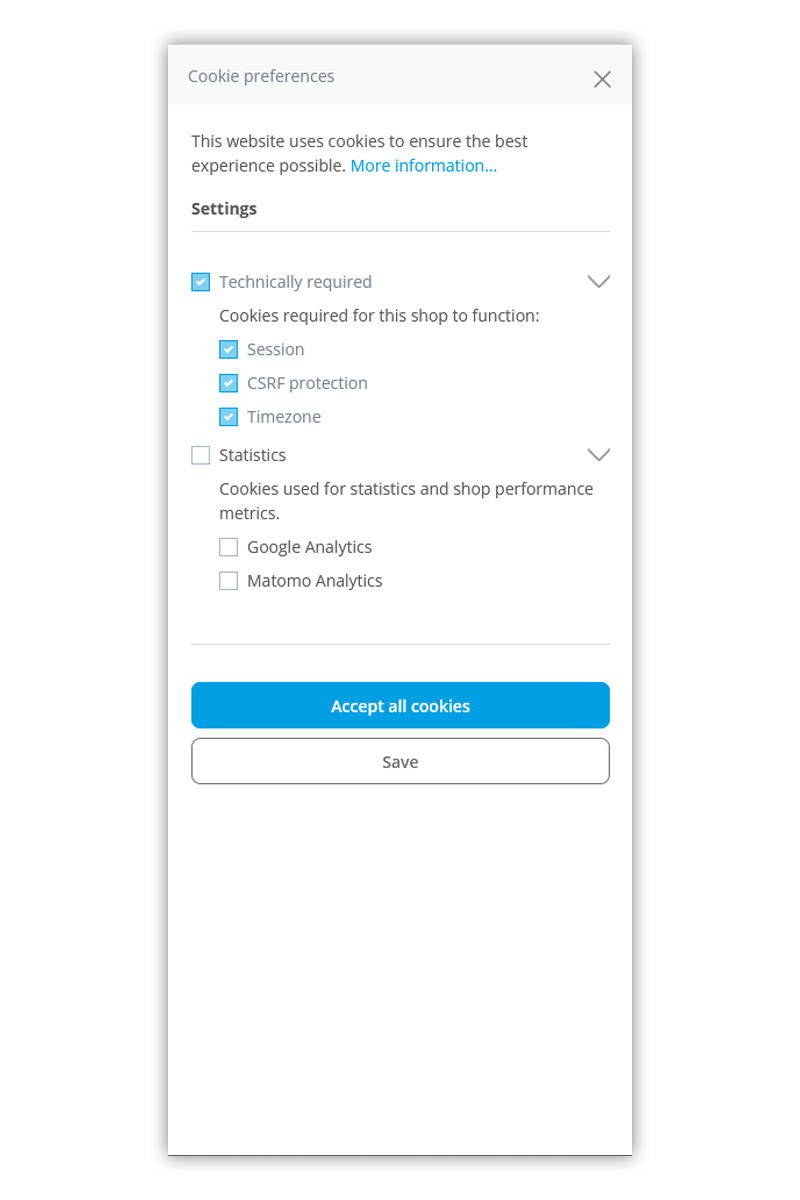 Types of cookies:
Technically necessary cookies: Technically necessary cookies ensure the basic function of a web shop, such as the shopping basket function in the online shop or saving your watch lists. In addition, a cookie saves your cookie settings so that you are not asked again each time you visit the website. Our technically necessary cookies include:

Session: We use session cookies to enable you to use the basic function of the webshop. These cookies are deleted again after closing the webshop.
CRSF protection: CRSF protection prevents hackers from performing actions in the online shop on your behalf.
Time zone: Your time zone is recorded to determine your geographical location. No specific addresses are determined in the process.
Statistics cookies: Statistics cookies help us, as a website operator, to understand how visitors interact with our website. The information we collect is evaluated anonymously. From this, we derive necessary changes to the website that should lead to enhanced user-friendliness. No data will be passed on to third parties.


Our main web tracking via the Matomo service is located in-house on our proprietary servers. No data will be passed on to third parties. All data is anonymised and encrypted. In addition, we use Google Analytics with the activation of IP anonymisation.
Marketing cookies: Marketing cookies are used to serve personalised advertisements. User behaviour, i.e. products clicked on in the shop, is analysed and stored by cookies. When you leave the website and continue to browse the web, the products you have viewed will be displayed to you in the form of advertising. In the process, data is transmitted to third parties. We do not use this type of cookie.
Ongoing contact options:
The so-called floating action buttons are three elements that are always positioned at the lower right edge of the screen. They offer you a practical form of assistance if you want to contact us directly via telephone or email, or if you want to go straight to the top of the website.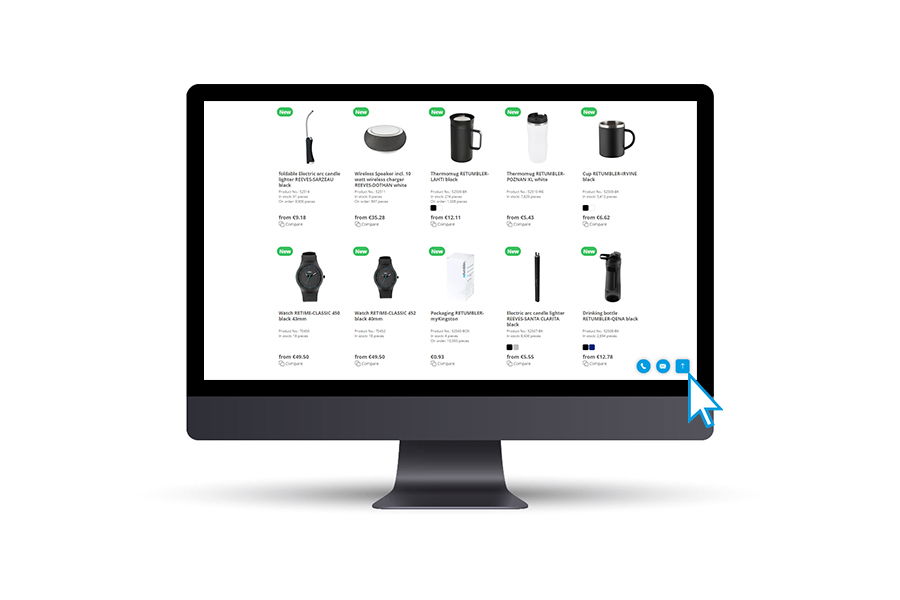 Desktop: In the desktop view, you need to click on the "Phone" and "Email" buttons to open our phone number or email address. By clicking on the respective element again, the selected action is carried out. Our "Back to top of page" button takes you back to the top of the website with one click.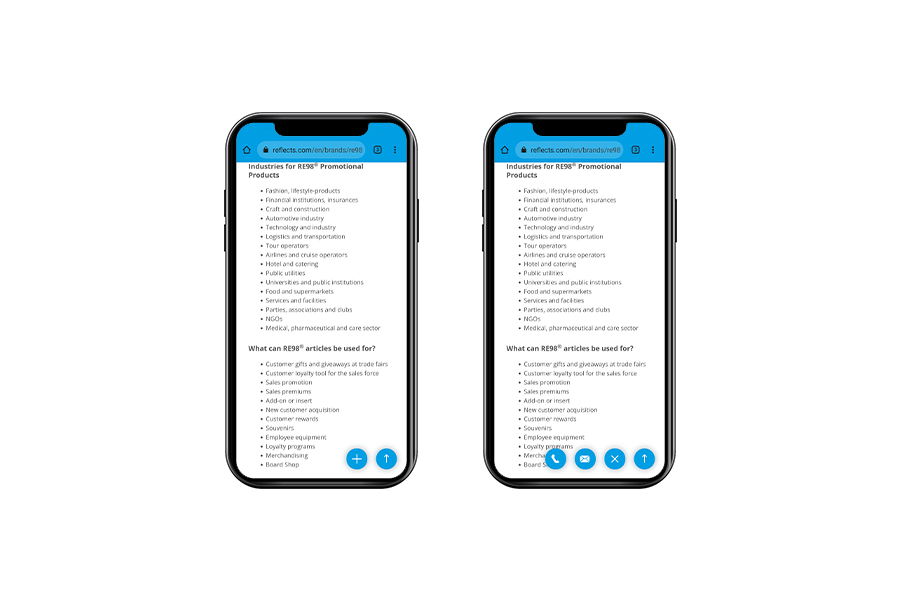 Smartphone: On the smartphone, the floating action buttons "Email" and "Phone" are hidden behind a circular plus element. When the element is selected, the menu is opened. With a single click, you can now switch to "Email", "Telephone" and "Back-to-Top".
Product comparison: The differences at a glance
To make it easy for you to compare articles with each other, we have added a new function for you. Up to four items can be compared at once.
How it works: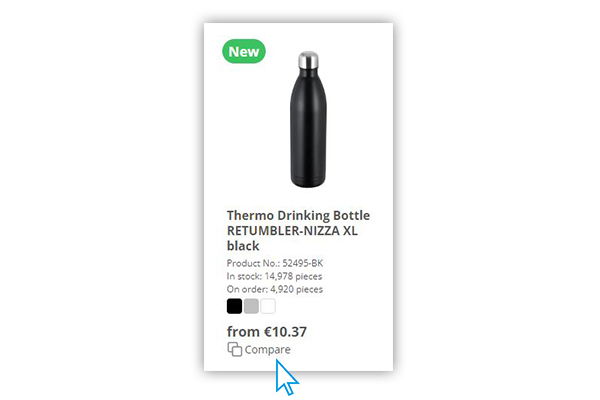 Use the comparison symbol on the item, either in the listing (category page with product box) or directly on the product page.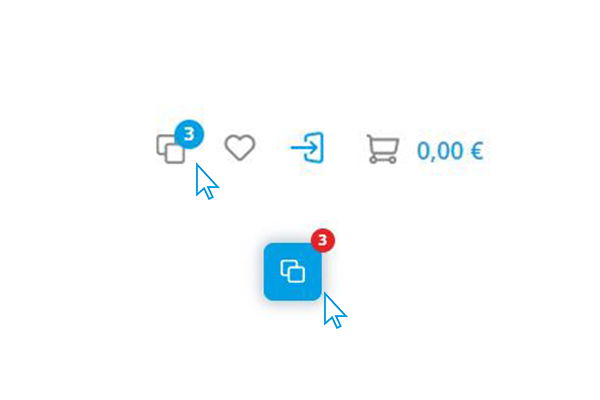 If one or more items are in the comparison, the comparison symbol appears in a cyan-coloured box at the bottom left.
The number shows you how many items you have already added for comparison.
Clicking on the box will take you to the comparison overview, where all the added items will be listed. Alternatively, you can also get there via the comparison symbol in the navigation bar.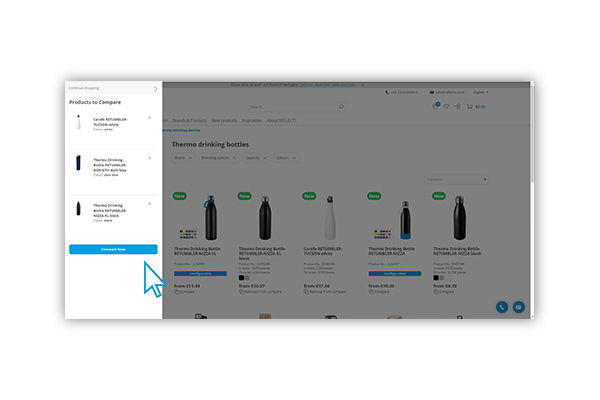 Add more items or click on "Compare now" and you will be taken to the comparison view.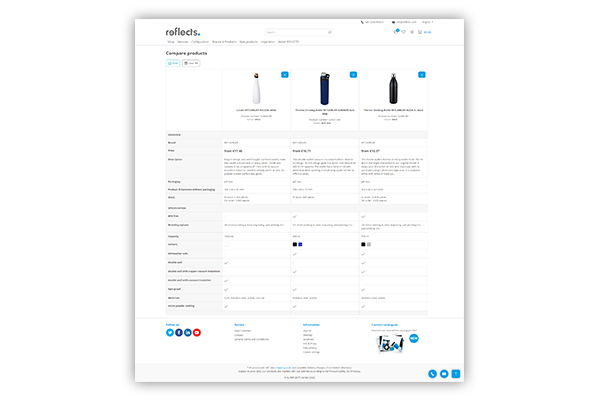 You can download the comparison as a PDF or print it out directly by clicking on the "Print" button.
Our webshop with login
REFLECTS® webshop advantages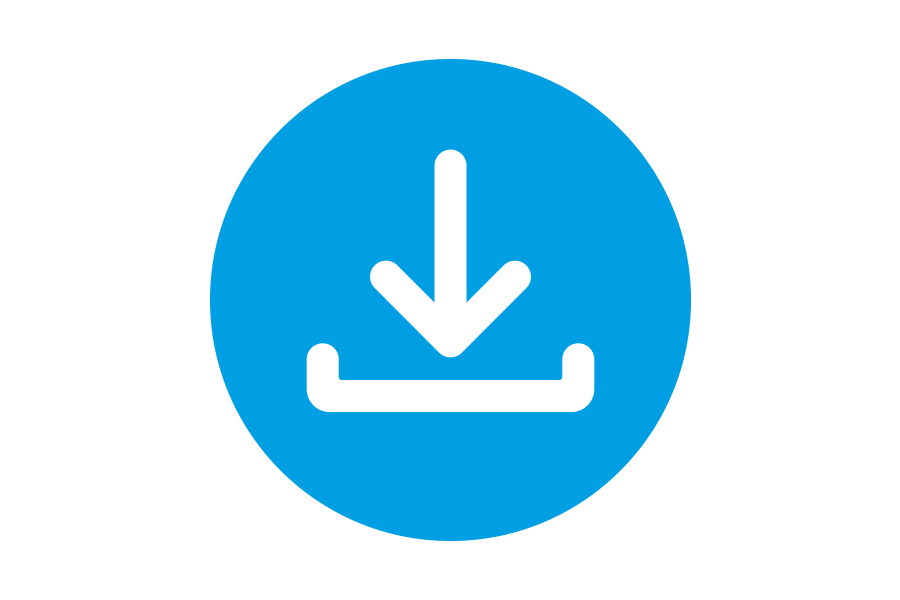 Downloads: The download area on the product page will be activated when logged-in. There you can download further information, images in different resolutions and marketing material (new) for products.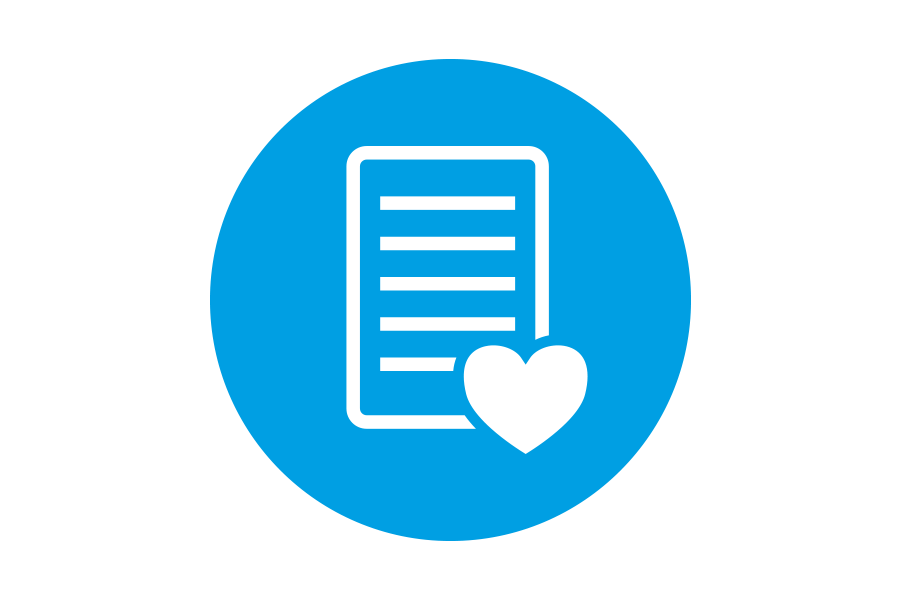 Wishlist: You can manage interesting products for your customers in wishlists. Create, manage and share lists.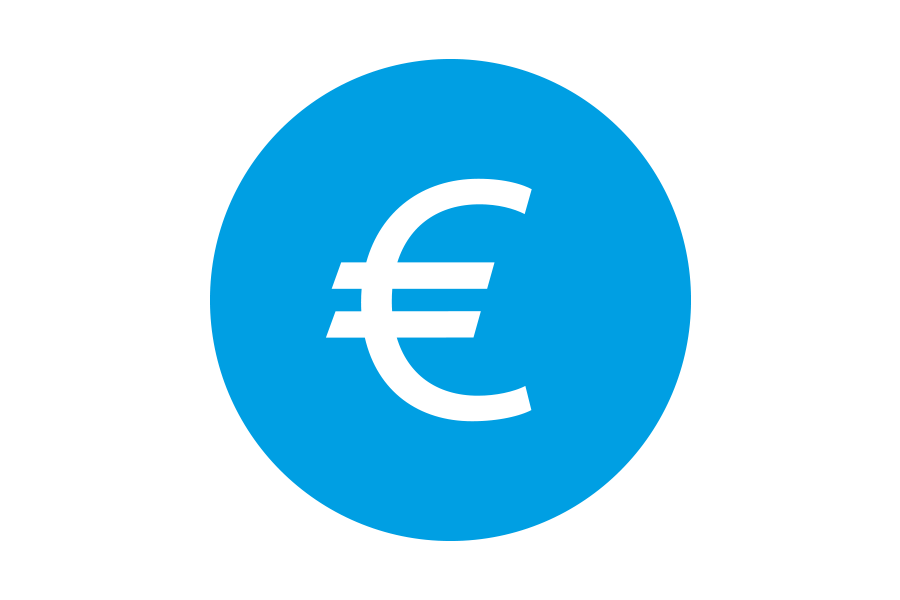 Prices: Wholesale prices are displayed as soon as you are logged into the shop. Display of scaled prices in the webshop.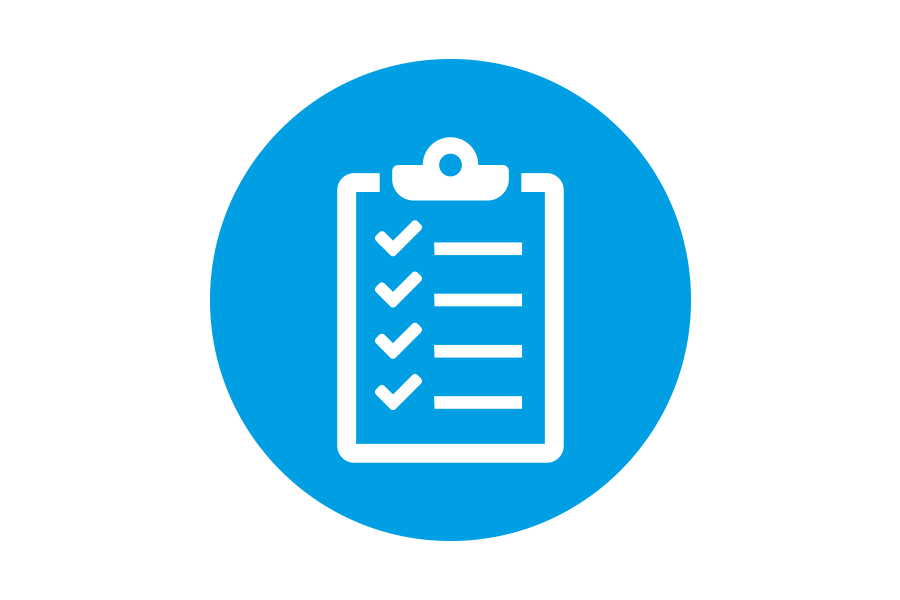 Order overview: You can view your orders at any time and track your order progress.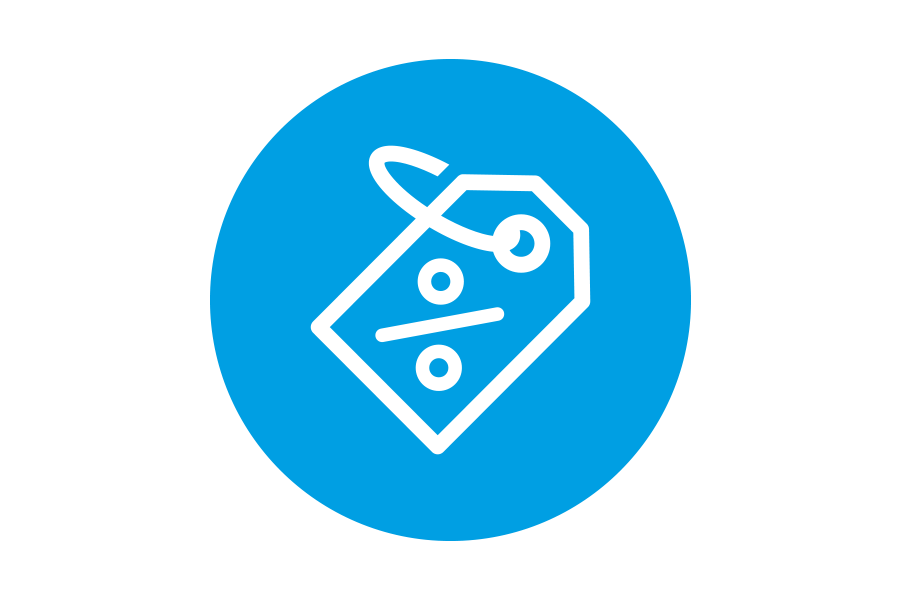 2% discount: You will immediately receive a 2% online discount in the shopping cart.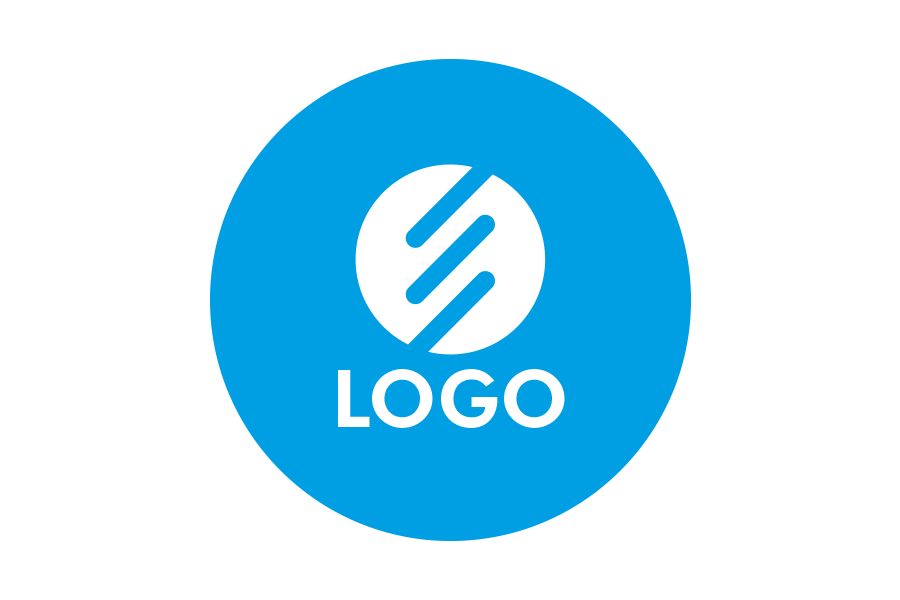 Advertising placement: You can choose a customisation directly for your product, add it to the shopping cart and upload the logo file.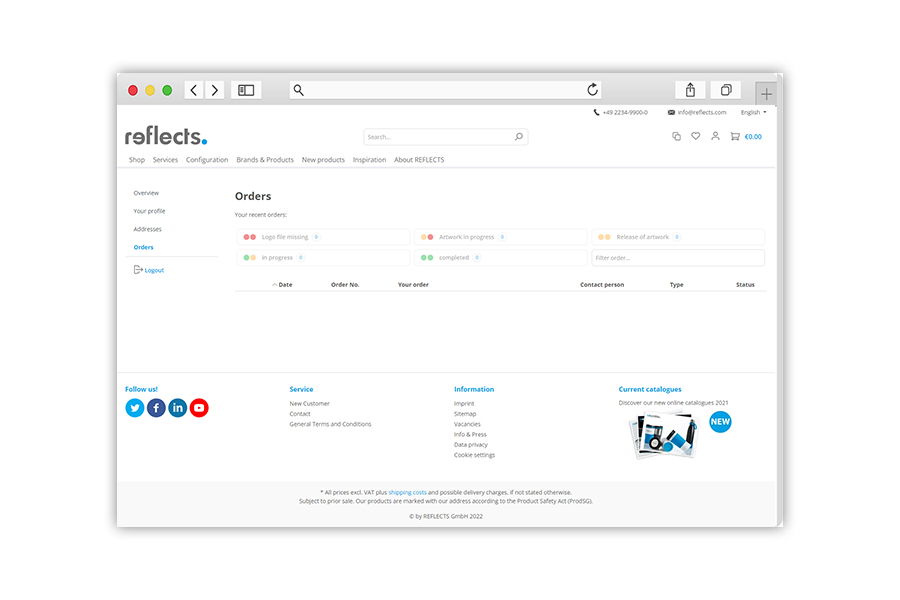 Order status:
Under "Orders", you can view all your orders from the last two years with date, document number, order number and the contact person, as well as the order type – such as "Finishing" or "Sample". You can always see which stage your order is currently at.
Your order status is displayed and can be sorted using filters: "Data missing", "Graphic in progress", "Issue approval", "Open" and "Order completed".
You will be informed by email if additional data is required from you, or if you receive the graphic files for the order for approval. In addition, you have the option of tracking your delivery via the tracking code that we store with the receipt. Invoices can also be downloaded here.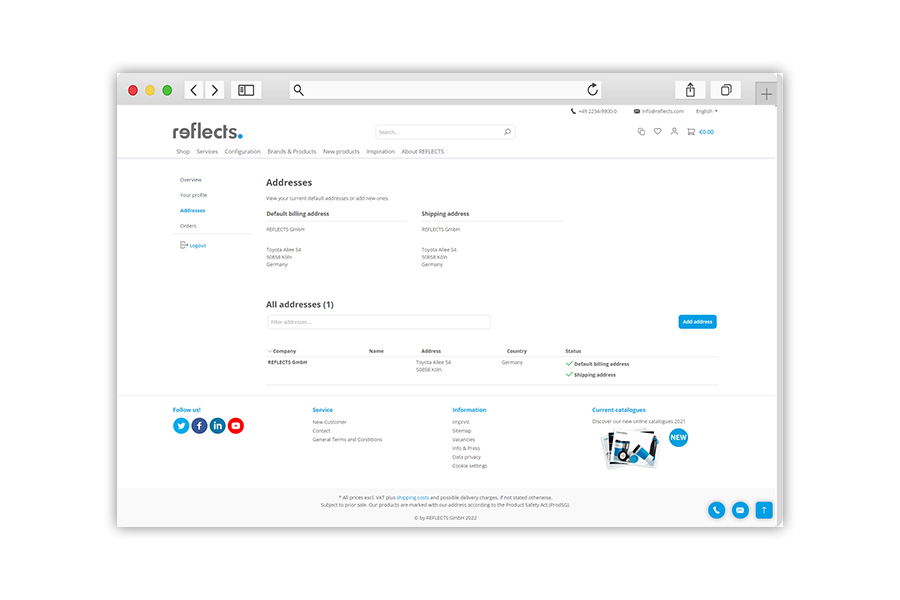 Addresses:
In the login area, you have the option to store several delivery addresses under "Addresses". The table of existing addresses can be filtered. A search function helps you find the customer address you want.
Two-factor authentication: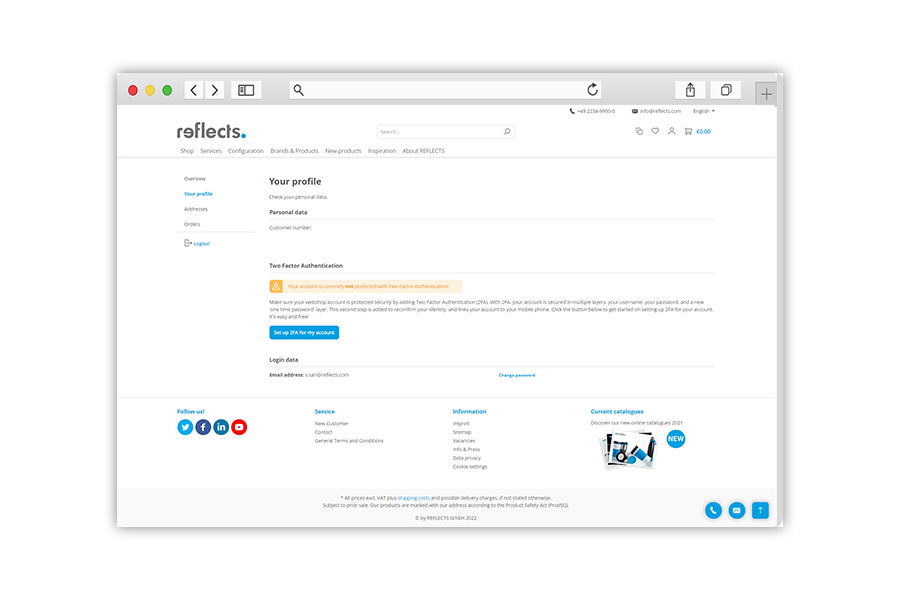 What is two-factor authentication?
Activate two-factor authentication to ensure additional protection for your webshop access and account with two independent components. When logging in with 2FA activated, the login must be verified by a one-time password from a compatible app or a password manager (existing software on your system). Many users are familiar with this function from online banking. The option can be activated under "Personal Profile".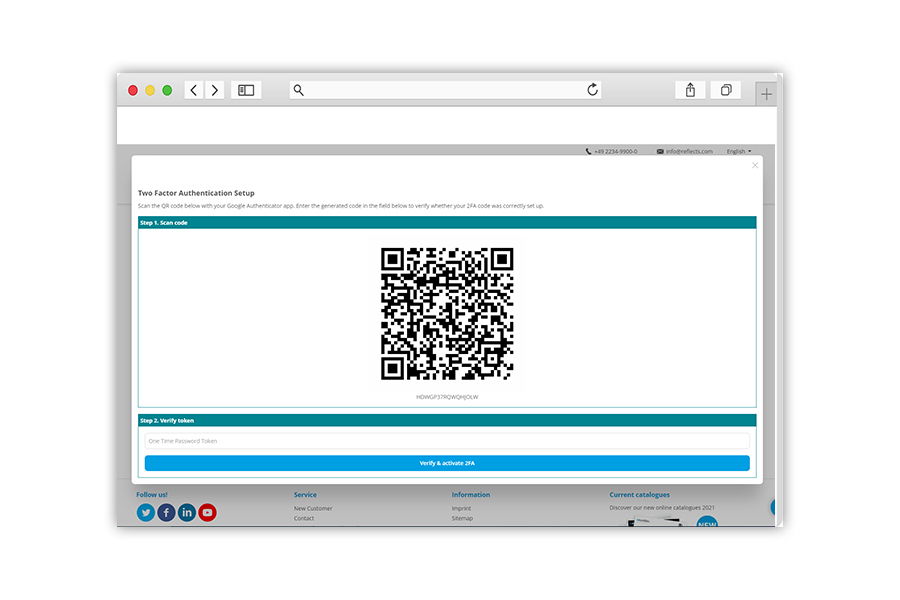 Here's how:
The first step is to scan the QR code with your 2FA app or enter the code below it and you will receive a 6-digit one-time password in your app that updates every 30 seconds.
In the second step, enter the newly generated 6-digit one-time password to check that the 2FA has been set up correctly. You can then click on the blue button to verify your one-time password and activate 2FA.
As soon as you want to log in, alongside your email address and password, you will also be asked for a one-time password, which is generated via your 2FA app.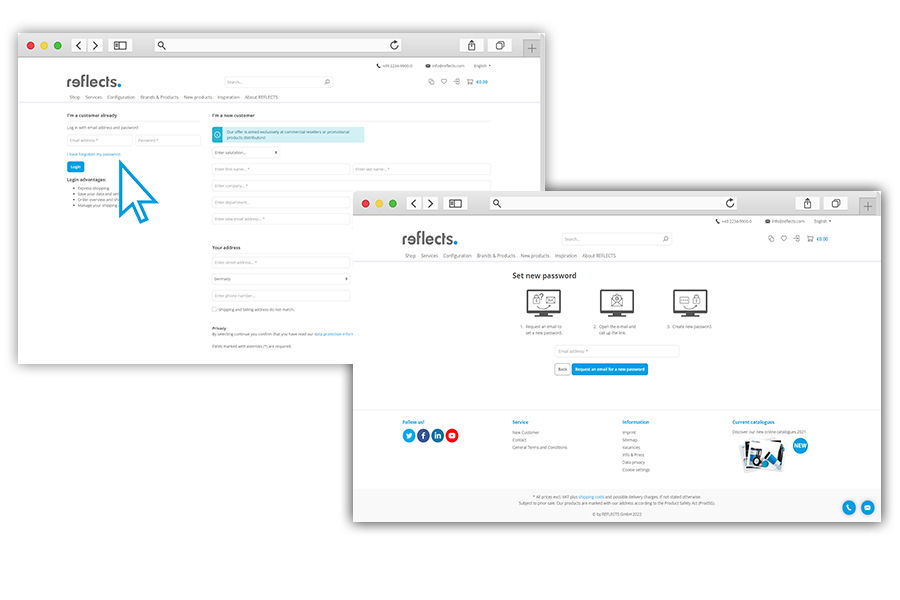 Forgotten password:
If you have forgotten your password, you can set a new password under "Login" by clicking on "Forgotten password".
When you enter your email address, you will receive an email with a link that is valid for two hours. You can set up a new password via this link. If you do not use the link within two hours, you must request a new link.
Your data security is important to us. Therefore, we have chosen this process to set the new password via a link.