Red Dot Award for
RETUMBLER-myVivero
Right on the dot! The RETUMBLER-myVivero thermo mug from REFLECTS® has been awarded the Red Dot Award in the Product Design 2023 category. We are very pleased with this success because our mug redefines the principle of the reusable mug – with its highly ergonomic shape, the outer layer can be used as a second mug and an extra-large, hygienic lid with plenty of space for an imprint.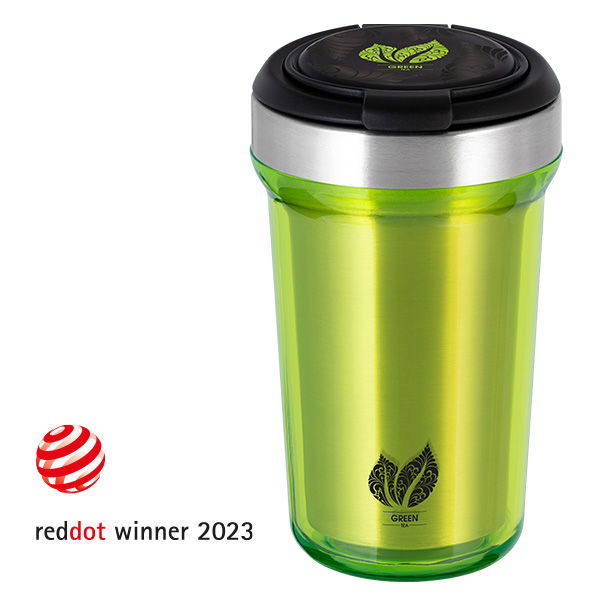 ADITAN® and REFLECTS® combine competences
lanyards, pins, shopping trolley chips and MEIN JOHANN®
Another step as part of our restructuring that began in 2019 was implemented at the turn of the year 22/23. From now on, we are merging our competences with our subsidiary ADITAN® at the joint company headquarters in Cologne. Now, employees with many years of experience from both companies constitute your specialist team for lanyards, pins, shopping trolley chips, sunglasses, name badges and a variety of further individual promotional items. This step is aimed at increasing efficiency for your benefit.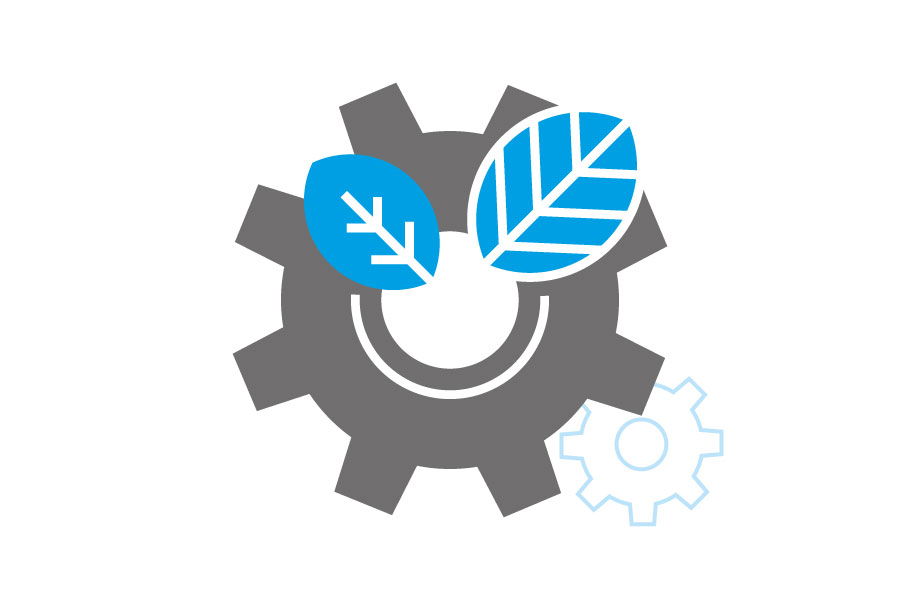 Co2e emissions at REFLECTS

®
Our goal is to reduce our Co2e emissions as much as possible and, wherever this should prove to be just beyond our reach, to ensure appropriate compensation. For this purpose, we conduct an annual assessment of our site, which includes the transport routes. We have concluded a contract with UPS that enables UPS carbon-neutral shipping, and are successively balancing our product range. The first Co2e emissions from products were offset by investing in environmental protection projects. Read more
First sustainability report
We proudly produced our first sustainability report and published it with the DNK.
Successful certification as an Ökoprofit® company Cologne
We want to become a model company in terms of sustainability! We have laid the foundation for this with our award as an Ökoprofit® company.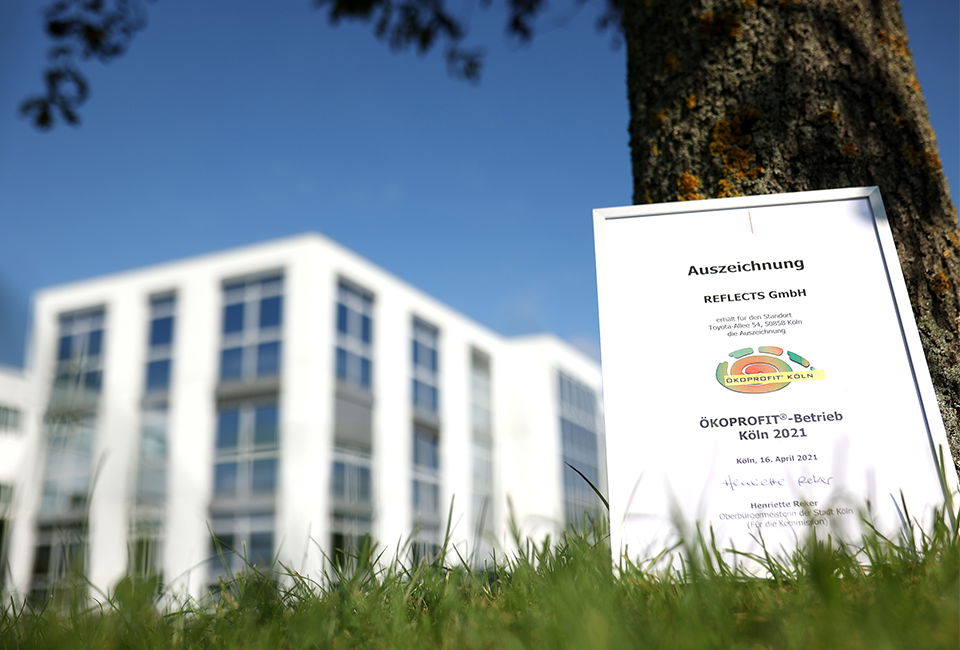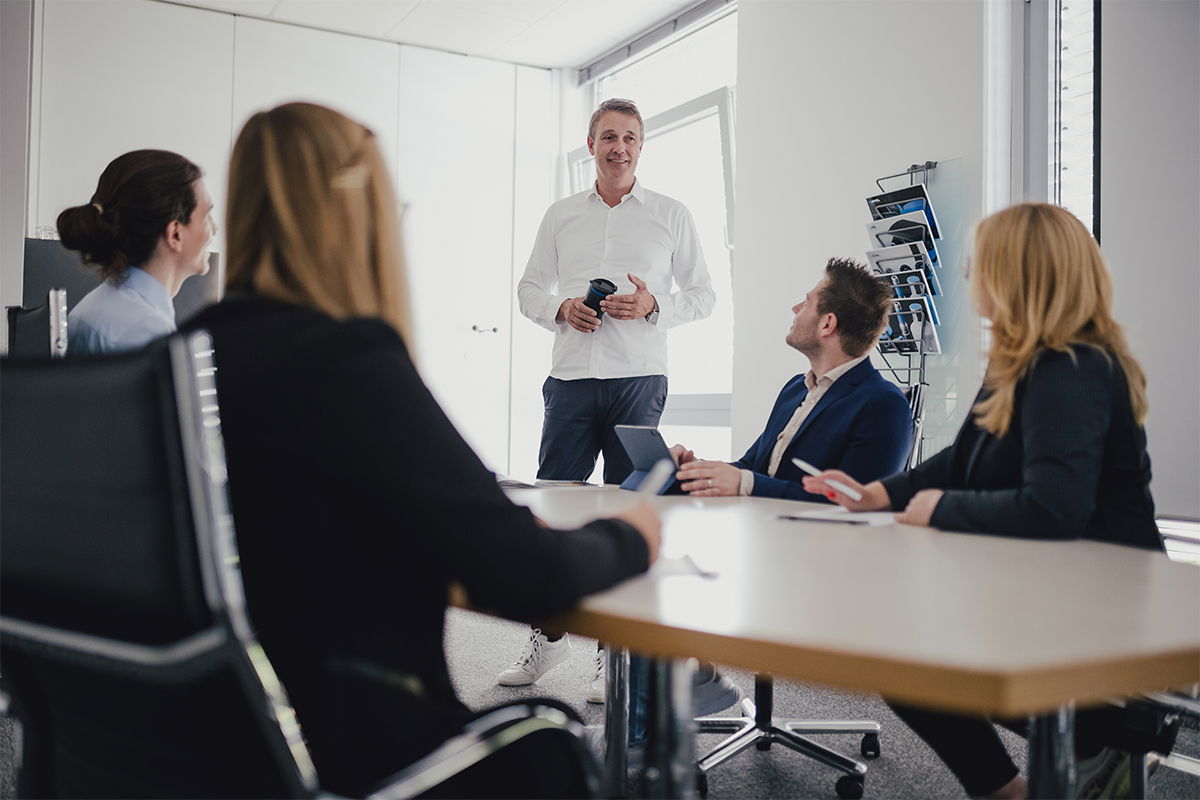 In the course of restructuring, the organisation is to get a new face
Purchasing and sales have been merged, and a powerful product management process has been established. Today: It's the more efficient structures that make us more flexible.
The next brand follows with RE98

®

– Classics & Ideas
RE98® stands for high-quality promotional classics and trendy new releases.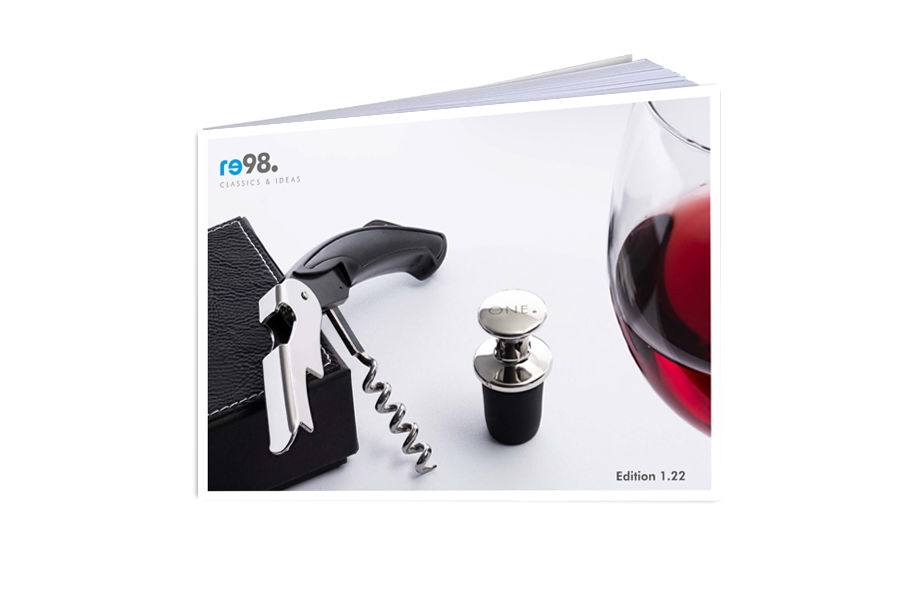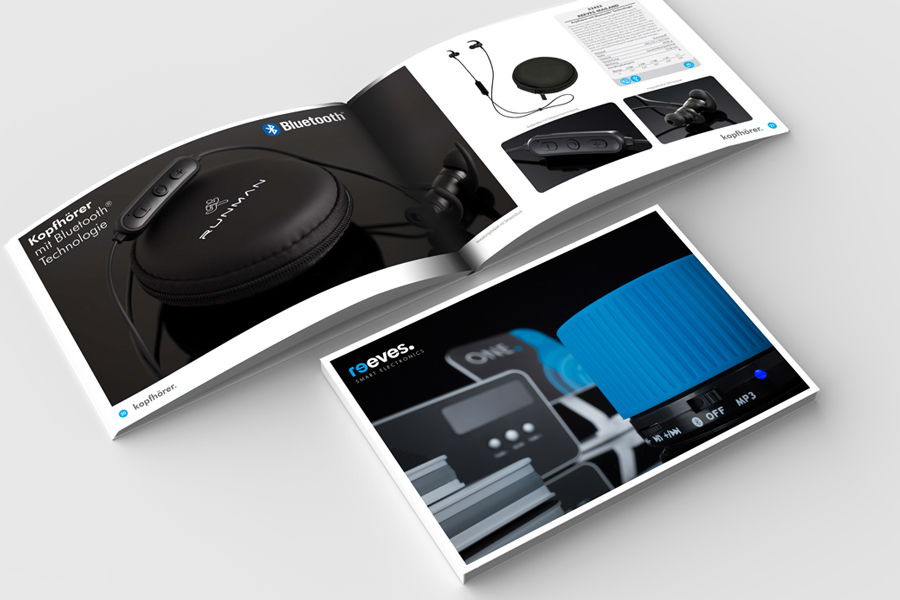 The brands REEVES

®

– Smart Electronics and RETIME

®

– Cool Watch Concepts, to get their own brand catalogues
With the other two flagship brands, we are underlining our ambition to become one of the leading multi-specialists in Europe in an approach underpinned by sustainability.
The first special catalogue RETUMBLER®- best of drinkware
After the successful introduction of the 3 new brands, the first brand catalogue in the style of a real specialist went online in August 2020.
REFLECTS® takes over goprom
The Essen-based company is taken over by REFLECTS and suitable product ranges such as lanyards are integrated into the existing REFLECTS® range. The popular shopping cart remover MEIN JOHANN is now part of the range.
RETUMBLER® receives the coveted Promotion Gift Award
The innovative myBayamo concept is awarded the Promotional Gift Award.
RETUMBLER®, RETIME® und REEVES® are presented to the public
The PSI Messe 2020 in Düsseldorf will be the first public stage for the new brands. The new concept was presented to almost 1,000 trade visitors. myBayamo will be the first lead product of the new strategy.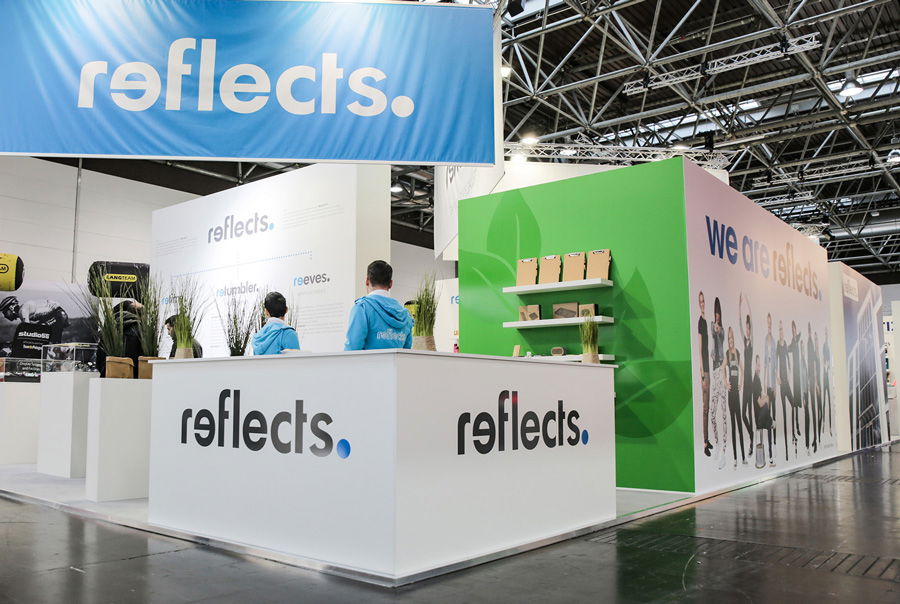 Repositioning ourselves.
The process that at the top of the year starts with the renovation of our production facilities soon becomes a thorough analysis of our business model. A completely new brand mission statement needs to be created and therefore we took partners on board. Together with the Institute for Marketing in Cologne (DIM) under Professor Dr. Bernecker, we have developed a concept that involves many renowned dealers and industry representatives in expert workshops, which initiated customer surveys and the involvement of employees and determines the future requirements of the industry. Image analysis and brand identity analysis followed.
Based on the results, we defined a completely new corporate strategy, which incorporated the core elements vision, mission, positioning and values of the company as well as the relevant core expertise.
As part of this process, REFLECTS® is now a multi-specialist that inspires with sustainable and high-quality promotional items, unique service and real benefit. We make messages tangible and companies visible. After all, we don't offer standard off-the-peg solutions, but customised and individual products.

Our REFLECTS logo is growing younger, fresher and more modern. The subbrands RETUMBLER® - trendy and sustainable drinking bottles and cups, RETIME® - more than 250 watches and smartwatches and REEVES® - selected electronic articles stand for strong collections and core competences. Of course, the excellent selection of promotional items and custom mades is also retained - high-quality metal articles, office accessories, leisure articles and last but not least lanyards, pins and caddy chips.
We deliver proven quality and define targets for a more sustainable industry. These include waste avoidance, multiple use, resource saving and emission reduction. We encourage the environmental awareness of our suppliers, customers and employees.
Our website and our store are being relaunched and in all areas are being adapted to the new requirements.
Moreover, we are getting down to work in the support of our customers. New, high-performance sales teams are pooling their expertise in order to be even better at your service.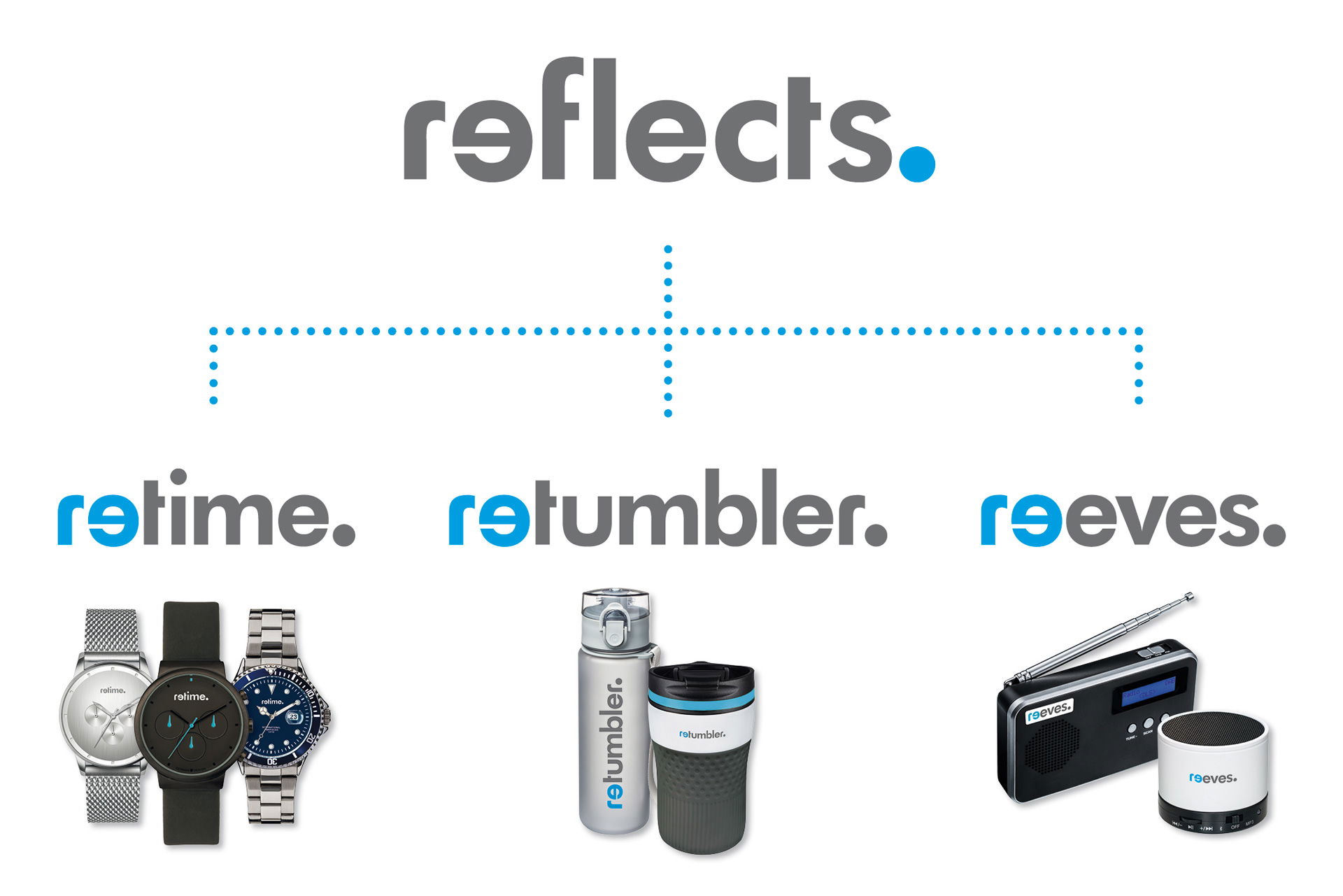 Have the time of your life!
Experts are at the scene: our watch collection is being launched with 250 completely new models, setting new standards in design and variety. Customers who visit our watch stand at PSI 2018 are in for a pleasant surprise - those who have not yet thought about advertising with a fancy wristwatch will do just that from now on. Neither the budget nor the individualization is limited. Everything is possible, starting with basic models up to high-quality chronographs.
Easy Order branded samples
In order to make it easier for promotional product consultants to find their customers, this year we are introducing sample sets for lanyards, caddy chips, pins, bags, display cleaners and microfiber cloths. And because individualization is always highly valued, a very special calculator, the SPECTACULATOR, is finding real fans. It can be fully refined by UV printing.
Our UV printing capacities are growing and along with them the range of products that can be designed with this technology.
REFLECTS

®

UV Print:
Small effort, big effect
REFLECTS® UV Print: Small effort, big effect The machinery in the in-house printing shop grows. With digital printing, photo or UV direct printing, as it is also called, one prints with light. Ink is hardened by ultraviolet light and gives articles a smooth surface. The advantages convince customers, because REFLECTS® UV-Print is cheap, enables photo-realistic, detailed motifs and large-area printing, clear text presentation and is fast and uncomplicated.
LM ACCESSOIRES GmbH becomes REFLECTS GmbH
Since 1 January, LM ACCESSOIRES GmbH has been called REFLECTS GmbH. REFLECTS® has made a good name for itself: The brand for promotional items, created by LM Accessoires in 1998, has established itself over the years at the highest level and stands for professional promotional items and high standards of customer service. In response to this level of brand awareness within the industry, LM Accessoires has decided to change the company name to REFLECTS GmbH. The aim of the name change is to strengthen the brand even more and to harmonise the identity of company name and product brand.
Everything will stay as usual for team, location and logo. REFLECTS® guarantees the well-known reliability and the fulfilment of the high demands of its customers. The PSI trade fair is also under the sign of the new company name and continues the convincing line under the slogan "WE ARE REFLECTS" this year.
WE ARE REFLECTS !
WE ARE REFLECTS! This is the slogan of the company, which is also the focus of PSI 2016. REFLECTS by LM ACCESSOIRES is the slogan this year to emphasize how much the brand lives. 100 people from around the globe who can provide excellent promotional goods virtually anywhere in Europe at the drop of a hat are what's behind REFLECTS. The company's based in Cologne, a convenient location logistically. Our team can supply customers almost everywhere in Europe within one day. Even our suppliers in the Far East are virtually just around the corner from Cologne: Allowing us to quickly prepare and deliver goods to our customers in no time. By air, sea or land. From Cologne to the world!
We aimed for interaction and communication with our partners with a grand show featuring four German TV stars, presentation of new products and two films on our expertise and product range. Added value and transparency where customers are concerned and staff who consider our clientele worthy of the best of treatment were the spirit of the PSI and will be emphasised in all our activities in the coming year.
This year's product highlights are real eye catchers. The STRAP CONCEPT LOLLICLOCK FASHION wristwatch concept combines 38 trendy watch straps with 73 LOLLICLOCK history and 24 REFLECTS models. This makes over 3,600 basic options available in orders from 25 pieces.
The USB stick with adhesive notes designed by Maren Baum won a design prize from the technical university of Aachen under Professor Wagner. The adhesive notes can easily be replaced and thus make it possible to change the lettering as often as the owner wants.
The exclusive ballpen CLIC CLAC-CAMPBELLTON premiered at the PSI as a First Product. This ballpen provides a large doming surface and turns into a unique brand item by your logo. The square doming is installed on the head of the pen.
We also offer sports products such as skateboards and scooters.
LOLLICLOCK EVOLUTION right on time
LOLLICLOCK has fans and the company once again ventured to set standards for timekeeping. LOLLICLOCK EVOLUTION history was born and unveiled in a spectacular live show at PSI 2014. Yet the REFLECTS® brand also once again found itself increasingly at the heart of the action. With the REFLECTS SPECIALS catalogue, LM ACCESSOIRES demonstrated that the company is also capable of capturing the spirit of the age on all other levels.
Happy birthday to you!
LM ACCESSOIRES turns 25
LM ACCESSOIRES has entered history turned 25 in 2013. '25 years – that is just the best age!' said Meinhard Mombauer at the time. 'We are grown up, yet still possess boundless energy and are curious to try new things.' He thanked his employees for 25 successful years, some of whom had already been at the company for decades, demonstrating their full commitment and passion for the job. 'However, I would also like to thank our loyal customers, who appreciate what we do for them and with whom a close bond has developed in many cases,' added Mombauer. He also didn't leave out the many suppliers and partners at home and abroad from the list of those he wished to thank. 'Together with everybody, LM ACCESSOIRES has come a long way and it has been a fascinating journey that is nowhere near over,' said the managing director. He is proud of everything that has been achieved together and looks forward to having the opportunity to build on these healthy and solid foundations.
LOLLICLOCK ROCK was also launched in 2013 creating history, and immediately won the Promotional Gift Award! to coincide with the PSI trade fair. The clock was given its own bright and eye-catching presentation space at PSI 2013 and stood there proudly as if it were at an Oscar ceremony. It certainly deserved it
Welcome aboard – aditan® becomes a subsidiary of REFLECTS GmbH
Logistical synergies are a great concept, which is why the decision was taken in 2012 to establish the company's history aditan as an independent subsidiary of REFLECTS GmbH. With name badges, sunglasses, lanyards, promotional articles and presentation systems, aditan serves its own client base under the guidance of managing director Dirk Haynberg.
The product range adds a new brand: LOLLICLOCK
LM ACCESSOIRES has always loved a splash of colour. With the LOLLICLOCK family of watches, the portfolio was enhanced by a product range without equal. LOLLICLOCK, LOLLICLOCK Chrome + Date, LOLLICLOCK Crystal and LOLLICLOCK Chrono sold like hot cakes. Sixteen colours from pastel shades to bright tones proved a highly effective way of conveying a company's corporate identity.
New practical concepts: Straight Forward
Even with custom-made products we go "straight forward". For pins, caddy chips, lanyards, USB sticks, wristwatches, writing instruments and advertising balls, we create concepts that make it easy for customers to develop individual articles in simple, comprehensible steps.
More 'more' for customers
LM ACCESSOIRES was enjoying increasing popularity and enhanced its product portfolio continually and extensively. At the same time, the company kept a constant eye on market trends and movements. Accordingly, it introduced euro calculators, LED lights, leather articles, bar accessories, footballs, textiles, USB sticks and writing instruments. Core competencies in the area of special badge designs were expanded to include lanyards and wristwatches. If the market didn't offer what people were looking for, LM ACCESSOIRES developed its own designs. The important criteria always remained the same: the products must be good quality, sensibly priced in line with the market, be of practical use and ideally suited to customising, all in keeping with the company's slogan: Small things – big value. Such versatility is also reflected in the customer-oriented catalogues which are circulated annually on the occasion of PSI.
LM ACCESSOIRES under a new roof
A total of 5,500 square metres of office, warehouse and production space on an area of land measuring 13,000 square metres was looking forward to being filled with life in 2003.
The groundbreaking ceremony
Modern infrastructure with in-house production facilities, where customisation work such as pad printing, laser engraving, doming and gold working could be carried out promptly and in accordance with the company's own specifications and service standards, made LM ACCESSOIRES more efficient than ever before.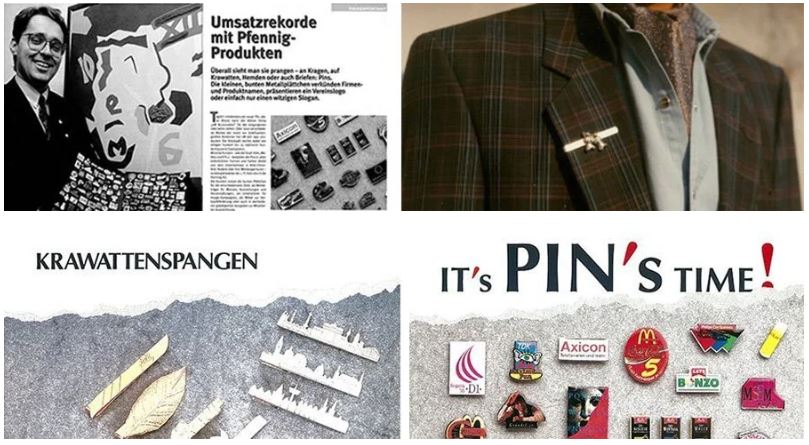 How it all began
You could never say that Meinhard Mombauer was bored when he and his friend Kai Lühr decided to earn some money on the side as students. Both were studying in Cologne when they came up with the idea of selling tiepins. The promotional merchandise industry wasn't even on either of their radars back then. That was soon to change. Badges and key rings were very quickly added to the customised pieces of jewellery for men. While Kai Lühr returned to studying medicine, Meinhard Mombauer discovered his passion for trading promotional items once and for all. In the 1990s the small company, which had since moved into offices, got to know the market better and experienced healthy and steady growth. The product range was ultimately enhanced to include metal articles. The REFLECTS brand was established in 1998. When the company finally outgrew the offices and warehouse on Stolberger Strasse in Cologne, in 2000, a decision was made in 2002 to move to a greenfield site in the Marsdorf district of Cologne and build new premises.