Wireless charging
Charging cables for smartphones are very soon a thing of the past because the technology of wireless charging is already integrated in devices of the newer generation. We have the right chargers for you. We have selected the most popular WIRELESS CHARGING products for you.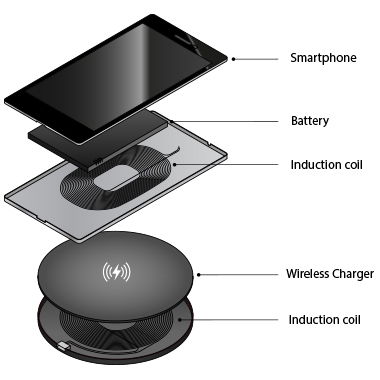 What is wireless charging?
Wireless-Charging is the future of charging! It allows you to charge your smartphone wireless. Since 2017, wireless charging is already standard in many smartphones.
This is how it works: Wireless Charging transmits electricity through electromagnetic induction - many know this principle of induction hotplates at home. The connection is made between two electromagnetic coils, which are located both in the smartphone and in the charging station.

The chip installed in the charging station recognizes the required voltage and adjusts the power accordingly.
Acrylic fast wireless charger: REEVES-Gingcast


Charging? Simply with good design

REEVES-Gingcast is a practical accessory and a charming decoration on your desk. Featuring power output of up to 15 watts, it provides fast and convenient charging. The transparent acrylic case, the visible copper coil and the LED charging light give the product a cool, modern touch. The charger is nicely rounded off by individual finishing, which can be applied by pad printing, CO2 laser engraving or full-surface UV printing on the backside.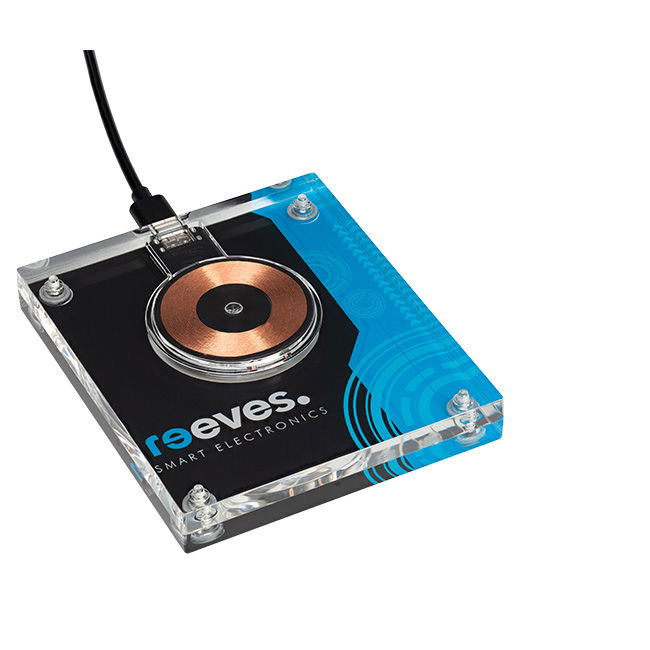 Which devices support wireless charging?
iPhone X
iPhone 8
iPhone 8 Plus
iPhone XS
iPhone XS Max
iPhone XR
iPhone 11
iPhone 11 Pro
iPhone 11 Pro Max

Samsung Galaxy S6
Samsung Galaxy S6 Edge
Samsung Galaxy S6 Edge Plus
Samsung Galaxy S7
Samsung Galaxy S7 Edge
Samsung Galaxy S8
Samsung Galaxy S8 Plus
Samsung Galaxy Note 5
Samsung Galaxy Note 8
Samsung Galaxy Note 9 Samsung Galaxy S9
Samsung Galaxy S9 Plus
Samsung Galaxy S20/ S20+/ S20 Ultra
Samsung Galaxy S10e / S10 / S10+
Samsung Galaxy Note 9
Samsung Note 10 / Note 10+

LG Optimus G Pro
LG V30
LG G7 ThinQ
LG V40 ThinQ
LG G8X THinQ
LG G8s ThinQ
LG G7 ThinQ
LG G7+ ThinQ
LG V40 ThinQ
LG V30S ThinQ
LG V30S+ ThinQ
LG V35 ThinQ
LG V35+ ThinQ
LG V30
LG G Flex
LG Nexus 4
LG Nexus 5
LG Signature Edition
LG Signature Edition 2018


Nokia Lumia 930
Nokia Lumia 920
Nokia 8
Nokia 9

Google Nexus 6
Google Nexus 5
Google Pixel 3 / XL
Google Pixel 4 / 4 XL

Sony Xperia Z4V
Sony Xperia XZ2
Sony Xperia XZ3

Microsoft Lumia 950
Microsoft Lumia 950 Dual Sim
Microsoft Lumia 950 XL

Razer Phone 2

Motorola Moto X Force
Motorola Moto Maxx

Xiaomi Mi Mix 2s / 3
Xiaomi Mi 9
Xiaomi Mi Mix

Huawei Mate 20 Pro
Huawei Mate 30
Huawei Mate 30 Pro
Huawei Mate 30 RS Porsche Design
Huawei Mate 20 Pro
Huawei P30 Pro
Huawei Mate RS
Huawei Mate 20 RS

HTC U11 Plus
HTC U12

Lenovo Z2 Plus

BlackBerry Evolve X
Older devices can be upgraded with our adapters for wireless charging