RETUMBLER

®

- drinking bottles, mugs & thermo mugs as promotional items
Sustainable drinking bottles and mugs have become part of our everyday lives: we enjoy our morning coffee in a thermo mug while we are on the way to work. During activities like sports a stylish drinking bottle is always at hand when we sweat. If we feel like having a delicious tea on the road, then a classy glass bottle ensures a perfect experience.
We, the users, encounter these items on a daily basis and thus have a constant exposure to your brand message.
So what makes the thermo mug so special?
The secret of its success is its structure. It ensures that the drinks stay hot or cold for a longer time. But even here there are slight differences. In general, every thermo cup is double-walled and thus forms an insulating layer to keep the beverage warm or cold. At REFLECTS® we distinguish between three categories:
But what actually distinguishes a thermo cup from a conventional, single-walled cup?
A conventional cup quickly releases the heat or cold of the drink into the environment. This is because it has no insulating layer and the cup material thus becomes a heat conductor. This means that the cup can become very warm on the outside and even get extremely hot. And this is not necessarily desirable for a hot drink.
It is a similar situation with cold drinks. There, the warmth of the hand is transferred to the drink - with the result that it gets warm more quickly and loses its desired temperature. Single-walled cups are therefore not suitable for thermal insulation, neither in plastic nor in stainless steel. However, double-walled thermo cups and vacuum flasks can provide a solution here.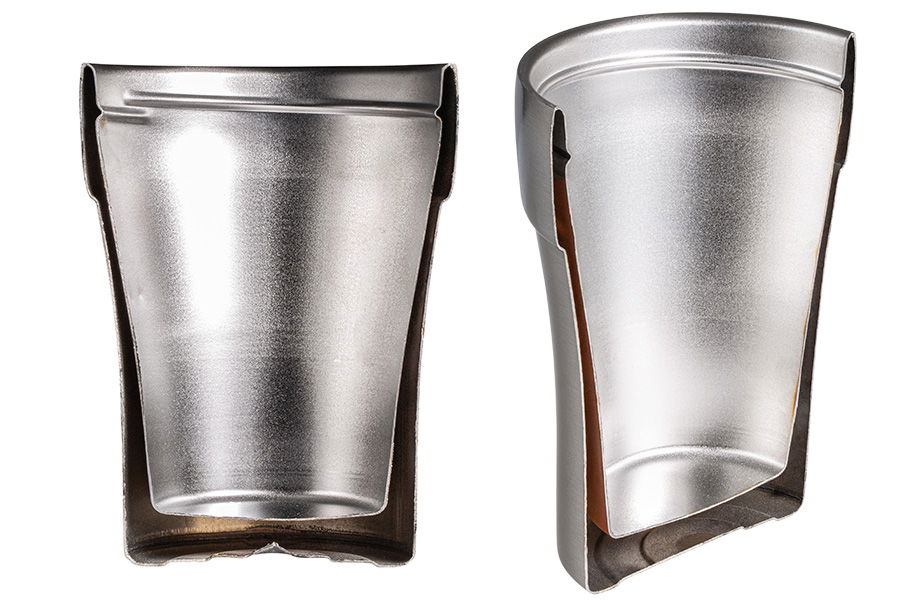 Tip: Almost all thermo mugs are dishwasher safe.
We are taking tough action against plasticisers:
BPA-free drinking bottles and mugs.
What is BPA?
The exact designation is Bisphenol A. This is a plasticiser added to many plastics and resins. BPA can be found in many everyday plastic items, such as food containers, plastic dishes and drinking bottles. It is used for synthetic resins, polyester and many other plastics since the 1960s. Plastic products based on BPA are especially light, dimensionally stable and often transparent. The plasticiser's chemical compound makes materials more flexible and stretchable. In addition, these plastics can be coloured especially well.
Is BPA dangerous to health?
If BPA comes into contact with food, it can be absorbed into our body through the food. Heat in particular dissolves parts of the chemical compound. BPA is considered by the WHO to have a hormone-like effect. Even a small quantity can lead to diseases such as diabetes mellitus, obesity, infertility and diseases of the thyroid gland. Therefore, BPA has also been on the REACH candidate list since January 2018. Currently, a threshold value of 4 mg per day per kilogramme body weight is considered harmless according to EFSA (European Food Safety Authority). However, the injurious nature of BPA remains controversial.
A good alternative: tritan drinking bottles.
This thermoplastic material - technically tritan copolyester – is free of BPA, but light and stable. In addition, the plastic is heat-resistant, tasteless, food-safe, break-resistant and dishwasher-proof up to 80°C. These characteristics mean that it is ideal to produce tritan drinking bottles.
PRODUCT-TIPS
Whether tea, coffee or infused water:
At RETUMBLER® there is soething for everyone.