WE ARE REFLECTS®!
The specialist for promotional products from Cologne
Promotional products are our world. Since 1988, we have been buying, developing, finishing and distributing a select range of innovative promotional products that make messages tangible. As a multidisciplinary specialist with our four product brands, we offer you professional know-how and passion for your individual advertising materials.
Why do we love hands-on advertising media? Because they're fun, they radiate aesthetics, they're creative, possess good communication skills, are versatile or simply great. In this way, we ensure that you, as our customer, get exactly the promotional items that you need at the moment – or that you didn't even know you were looking for beforehand. Simple. Quick. From the heart.
To this end, we work together in Cologne and manage an operation that spans the globe. We deliver tested quality and aim to set standards on the way to a more sustainable industry.
Meet REFLECTS®:
80 employees in Cologne alone
Over 30 years of industry experience
Over 400 promotional products in stock in Cologne, plus a large portfolio of custom-made products
Expert team of sales, product development, procurement, warehousing and logistics, production, graphics and administration
In-house finishing service
Over 20 years in close cooperation with our partner REFLECTS® Hong Kong for sourcing, custom-made products and direct import.
REFLECTS®. Your partner for modern promotional products.
REFLECTS® Cologne
We are Cologne! Our company is closely connected to Cologne since 1988. It's our hub to the whole world. In 2003 REFLECTS® moved from the city to the open countryside. Don't worry: If the sun is out, we can still see the spires of the Cologne cathedral. As a growing company we needed more space. With a surface area of 13,000 m2, our corporate headquarters now provides space for everything under one roof.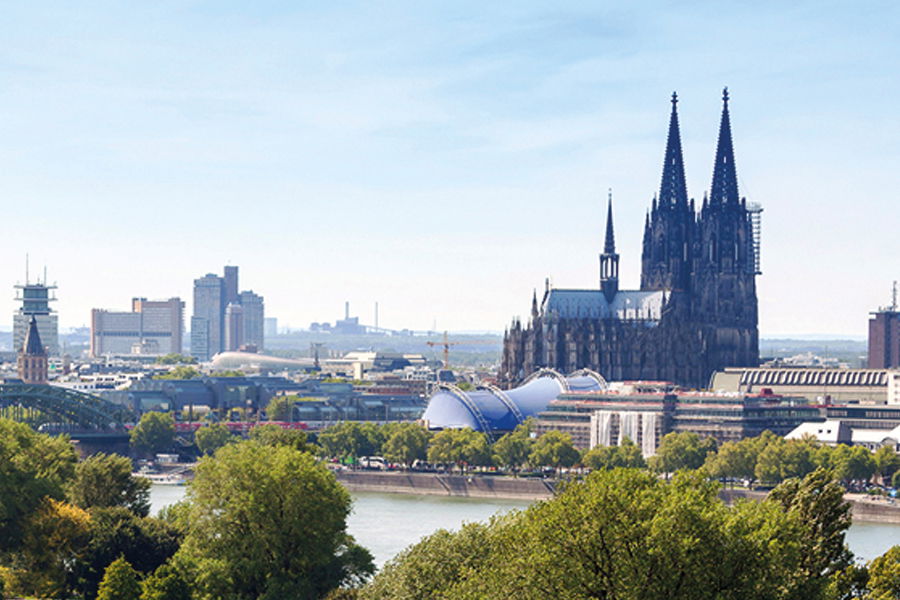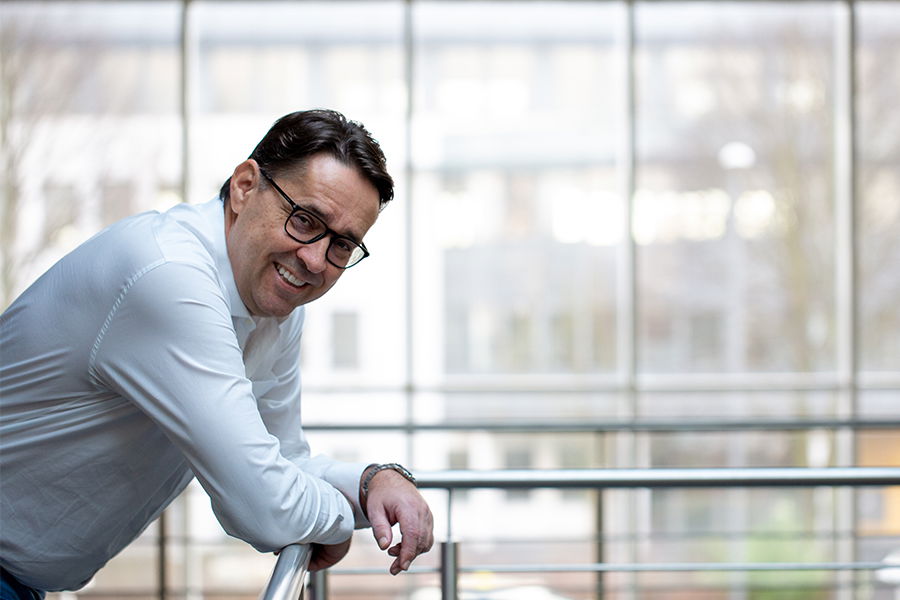 A family business: with passion, tradition and strong values!
Our company has stood for passion, tradition and strong values since it was founded by our managing partner, Meinhard Mombauer. He founded the company in 1988 together with a partner. Our boss set the course for a successful future early on.
Flat hierarchies, short decision-making channels and flexibility are, as in many family businesses, the prerequisite for us to be able to adapt quickly to changing market conditions. The transformation from a generalist for promotional products to a specialised brand supplier recently provided impressive proof of this approach. However, we are also successfully facing up to the great challenges of our time with professionalism and passion: we are making the transition to a sustainable company every day. As an effective instrument against the shortage of skilled workers, we accompany trainees in various professions on their way into the world of work. And we are also facing up to the demands of increasing digitalisation. As a family business firmly anchored in the region, we are also aware of our responsibility towards our employees and their families, as well as the wider region. Attractive workplaces, modern infrastructure and the joy of work are what set us apart, and these are important building blocks for the long-term success of the company and for the next generation.
Products from REFLECTS®
At REFLECTS®, we have over 400 products in stock for you in Cologne. With our carefully selected and developed products, we support you in your sales and marketing work. We create promotional products that are sure to win you over through quality, design, use, price-performance ratio and sustainability.
With our four brands, we concentrate on a few product groups and are among the recognised specialists in the industry. Our brands:
Our innovative highlight products offer you maximum flexibility for your customers. We offer a growing portfolio of configurable promotional products. And it's child's play to put together colours and components in the customer's chosen design. From the first piece, you can order your configuration from stock in Cologne with finishing.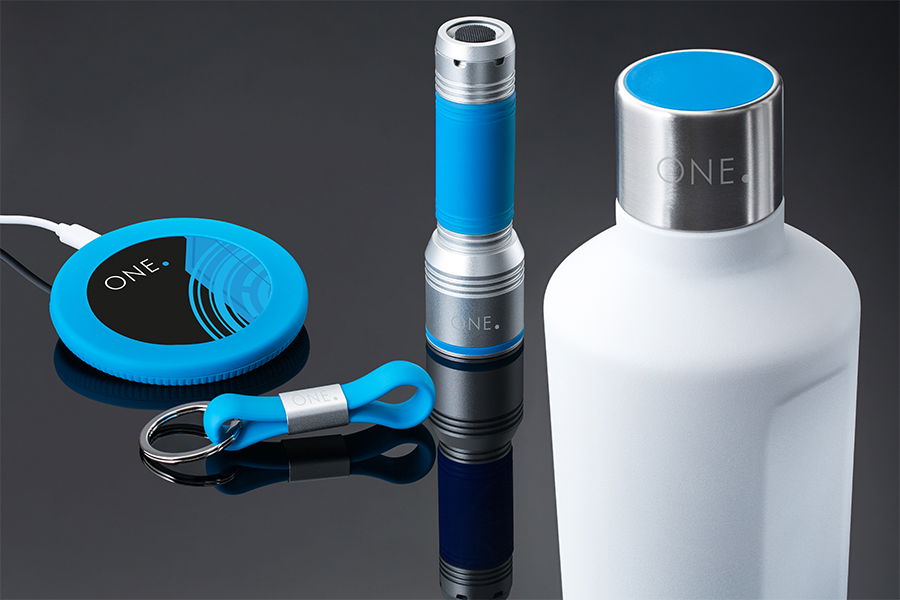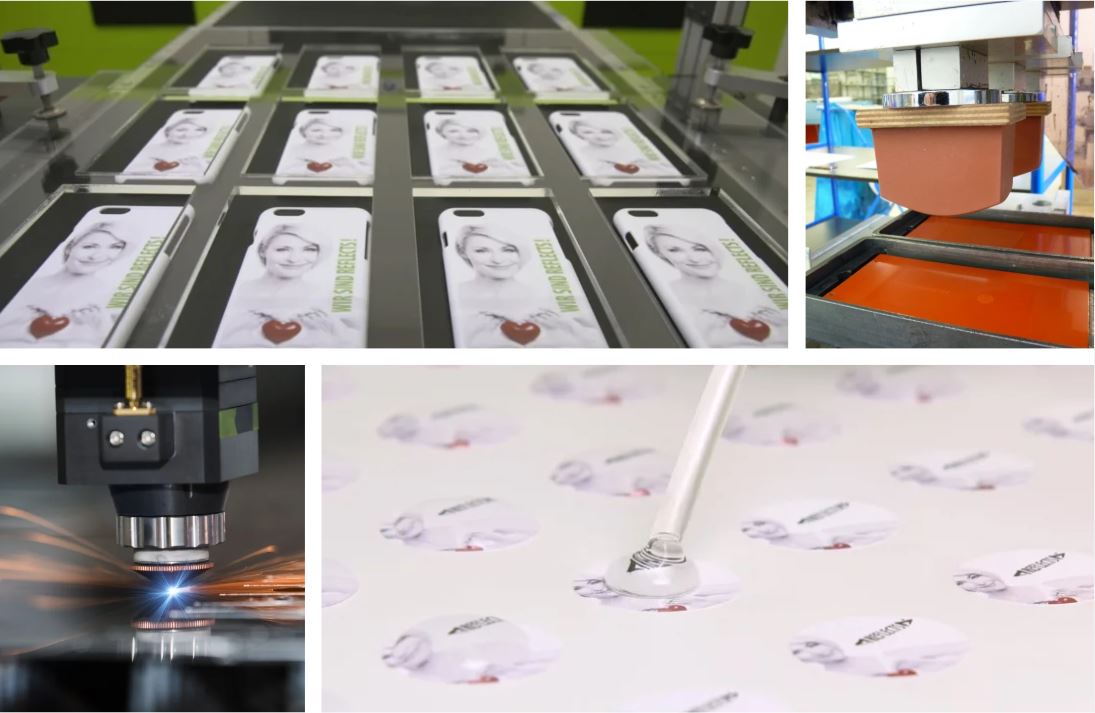 In-house finishing service
The finishing makes a product an individual promotional item. That's why we at REFLECTS® offer you logo printing right in house. So that all distances involved are short. And you can rely on a promotional item that offers REFLECTS® quality – from purchasing, to finishing, to delivery. The in-house finishing service from REFLECTS® also gives you a head start in terms of timing.
Laser engraving, pad printing, UV printing, doming
Quick samples of all available articles
A high degree of quality through trained employees
A machine park constantly being expanded
Flexible problem solving through short distances
Departments at REFLECTS®
80 colleagues are there for you at REFLECTS®. Each and every one of them does their best in their own discipline to make your wishes come true. Are you looking for a trade fair giveaway? You need an item quickly? No problem, we'll solve it. Our teams in Sales, Product Development, Purchasing, Production, Graphics, Logistics and Administration act as both advisers and doers. Everything from a single source – from the idea to the finished promotional item, that is our claim. Our colleagues from IT, Marketing and Graphics are also driving our digital services for you "behind the scenes". Whether it concerns the web shop, advertising material or product data, we are continuously optimising our offer for you. We are happy to fulfil your wishes, with professional competence and a good portion of ambition and joy along the way. That's because we love what we do.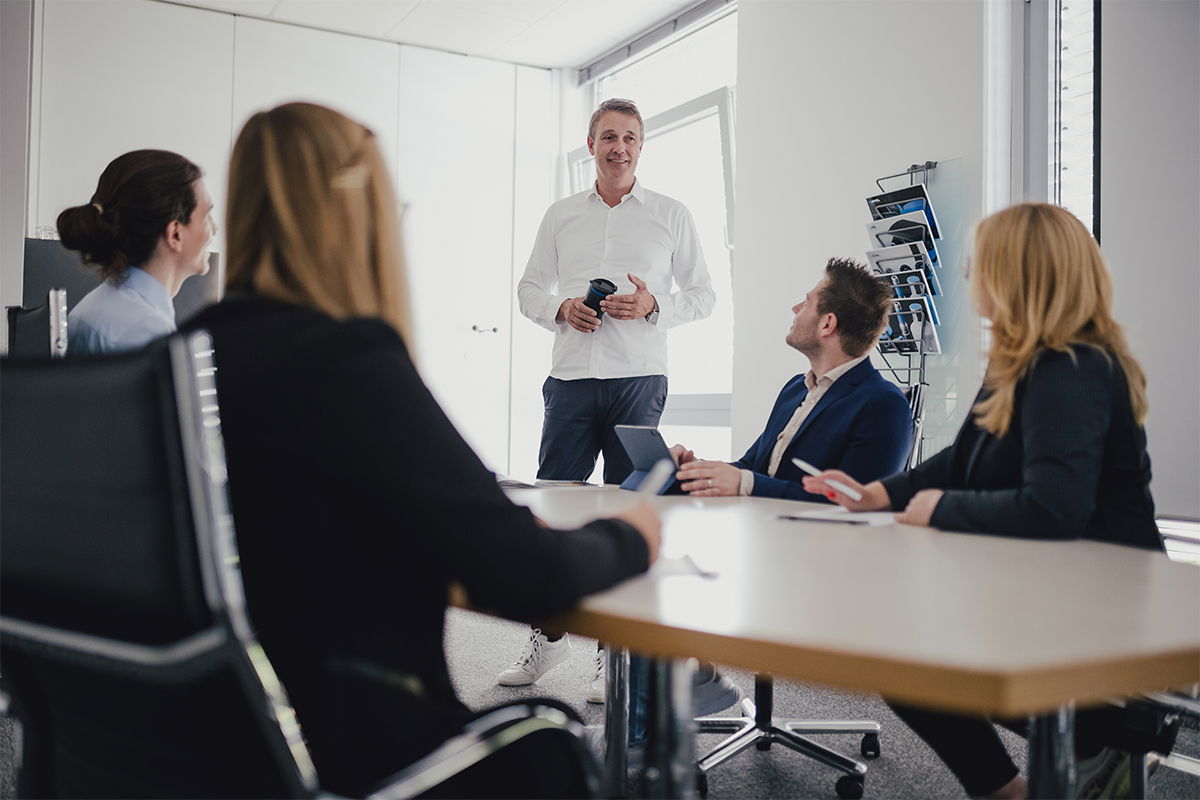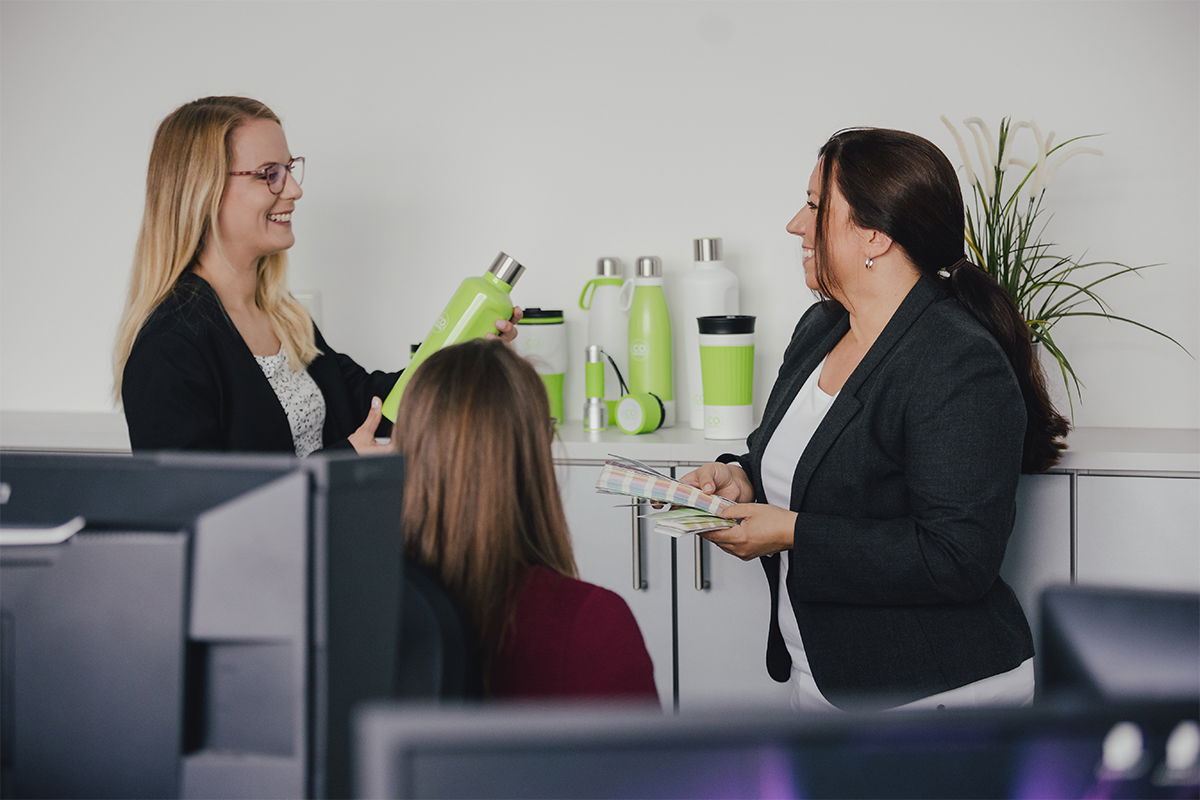 Quality at REFLECTS®
Whether simple ballpoint pen or high-quality wristwatch: At REFLECTS® we make sure that all products are worth their price. They have a quality which is essential for their purpose.
In order to evaluate the quality, we have set our own quality standard at REFLECTS®. It is based on three pillars.
REFLECTS® quality standard: Three-pillar model
1. Physical quality, such as processing and material
2. Marketability, legal framework conditions
3. CSR "Corporate Social Responsibility"
Only if all three factors are successfully examined, we accept the product into the REFLECTS® collection of products. In addition to this standard, there are special requirements for certain products. For example, the quality of a drinking cup is measured by very different factors to those of a power bank. We have experience with different products. We know the respective legal regulations and guidelines and pay attention to compliance..
Sustainable, for a brighter tomorrow
We set ourselves a target by the end of 2023: By then at the latest, we want to be able to assess and offset the carbon emissions of all our products for interested customers.
At the beginning of 2022, we have already taken the first steps to counteract CO2e emissions. Several measures on site to reduce the CO2e footprint, the entry into Ökoprofit® environmental management and the first CO2e assessing and compensation including all transports for Cologne were the first steps.
The sustainability aspect plays an increasingly important role in the conceptual design and selection of the product portfolio: new product and packaging concepts such as configuration and packing-on-demand for selected articles increase the recyclability of products and reduce the packaging volume. Highlight products from our assortment are CO2e-assessed from the beginning and compensated retroactively for one year via Nature Office.
This is done following the "cradle-to-gate plus end-of-life" approach and on the basis of the Green House Gas Protocol (GHG). For all transports, we compensate via our on-site assessment and a separate contract on carbon neutral shipment that we concluded with UPS. By compensating our emissions, we invest in the Kemphole Mini Hydel Scheme hydropower project through Nature Office.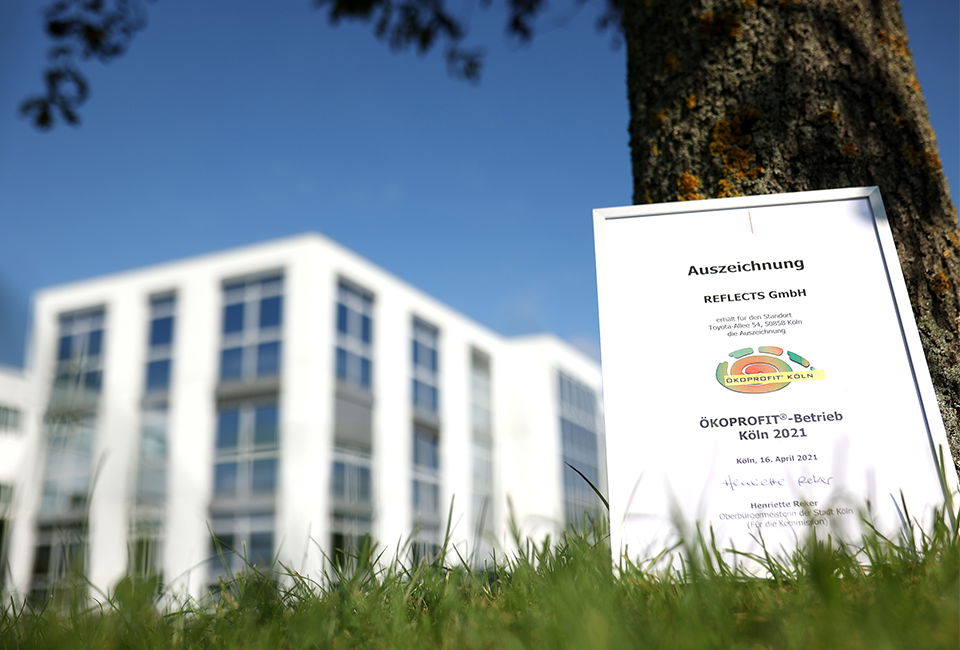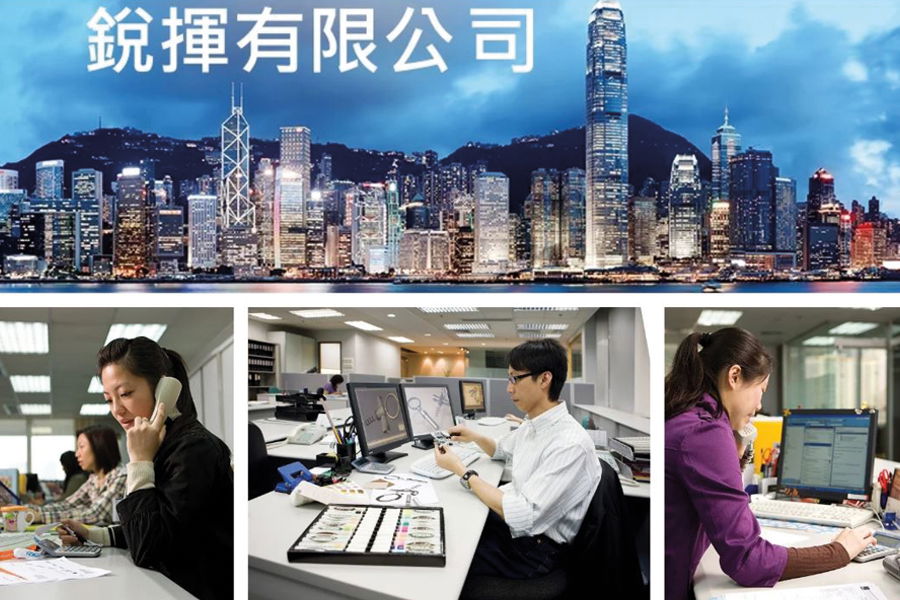 REFLECTS® Hong Kong
Made in China – a label we wear with pride. That's because our partner has been on the ground in Hong Kong and China for over 20 years. Close cooperation over long distances not possible? Every day, our colleagues work in close contact with their partners at REFLECTS Hong Kong. The employees of REFLECTS Hong Kong are close to the producers, they find and develop innovative products and stand for consistent quality control vis-a-vis our products.
More than 35 colleagues work in Hong Kong and at several locations in China, and every individual aims to discover and produce exciting new products for you, the customer.
QC offices at several locations in Hong Kong and China
Direct proximity to the producers.
Regular visits to trade fairs in Hong Kong and China
Own testing laboratory
Own merchandisers, graphic artists and logistics
Regular inspections of our production facilities in accordance with our Code of Conduct