Working at REFLECTS®
What is means to be part of the REFLECTS® family
Of course, we certainly haven't reinvented the concept of work. And we are not immune to having routine tasks occasionally, or some days that are a little less exciting than others. But rest assured, these days really are the exception. If you're looking to work in the advertising material sector, there's one thing you should know: generally, no two days are alike – not least because every customer is different and has their own unique requirements. And this is exactly what makes our work so full of variety.
Our customers include dealers and agencies that are looking for very special promotional items for their customers. And that prefer tailor-made products to standard cookie-cutter solutions. For this reason, our Sales, Purchasing, Marketing, Enhancement and Dispatch departments have to be particularly flexible, creative and inventive. After all, our work centres on the customer – not forgetting our workforce or partners either.
Our aim is to offer our customers a memorable experience. To make this possible, we take great care to ensure that our employees are a perfect match for our company, that they take great pleasure in serving our customers and that they share our passion for what we do and the services we offer.
Find out everything you need to know about REFLECTS® below.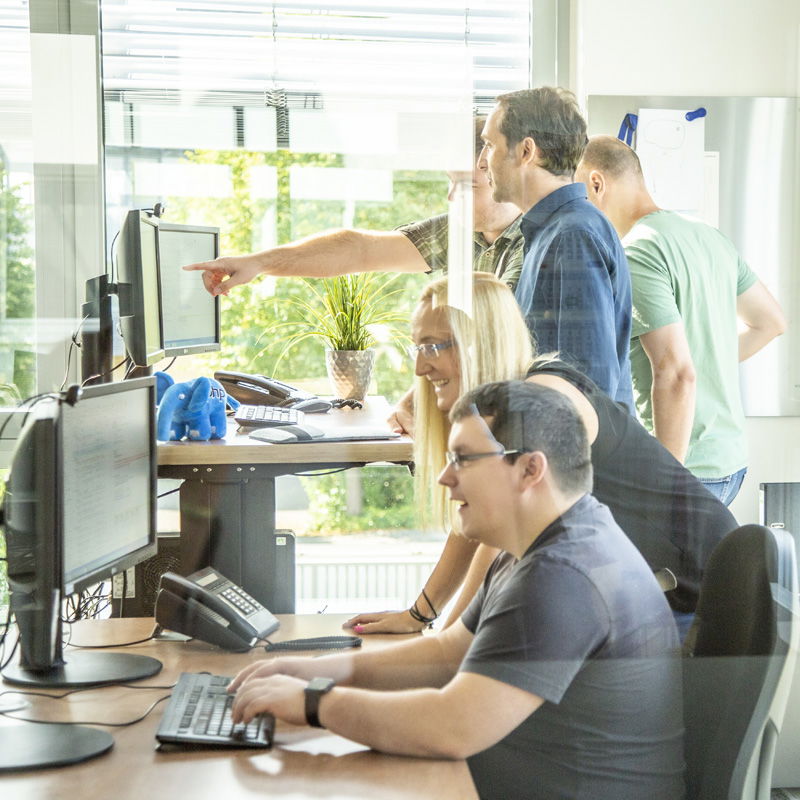 Teamwork with a system:
a look into our IT.
Like all companies, we are subject to the constant expansion of digitisation, and so we are working to find optimum ways to network suppliers, production, sales and customers.
In our IT department, our colleagues work as system administrators, frontend developers and programmers. Our system admins ensure that our hardware and software infrastructure runs smoothly and they are responsible for our company-specific enterprise resource planning (ERP). Our programming staff work in web development for our online presence, ensure that the required interfaces are available and are the creators of our stock database. This area also covers process automation and the improvement of our database and systems.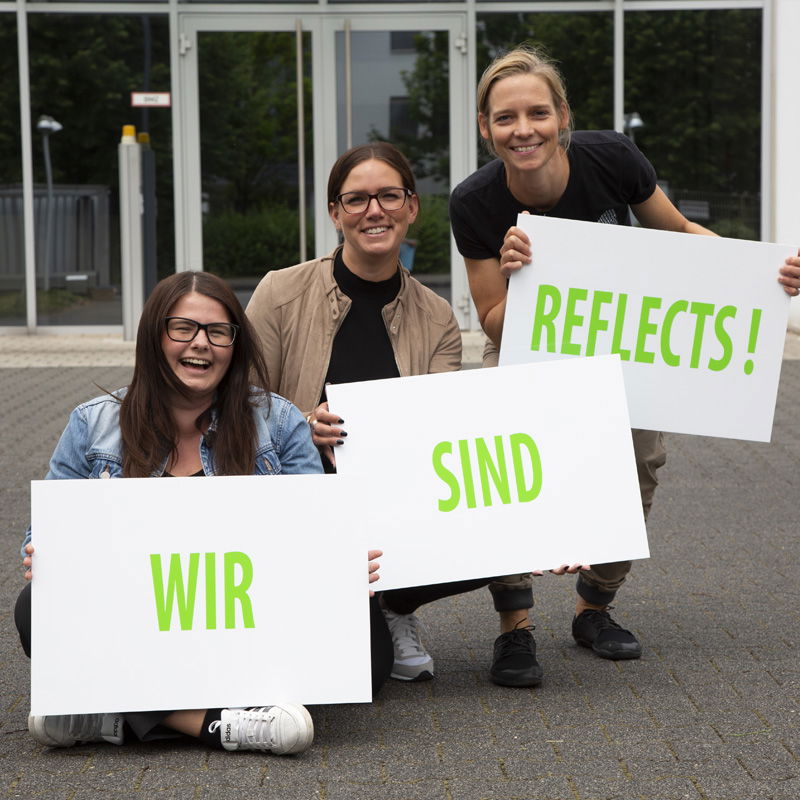 Closeness to the customer:

a glimpse into our sales department.

Our sales colleagues are enormously important. After all, our aim is to offer our customers a memorable experience. Our sales department is currently made up of five teams. Four of them deal with our customers in Germany, Austria and Switzerland. For these countries, we have an in-house field sales force, currently with two employees. A further team deals with our export customers. As we have a multi-level sales system, our customers are dealers and agencies. That means we come into indirect contact with all kinds of companies in nearly all sectors. We work with products bearing our customers' logos and, in accordance with our mission, always attempt to give each customer the perfect platform for presenting their logo. Our work is therefore very varied, with some creative aspects and some purely business ones, as we also compile bids, process orders and occasionally have to deal with a complaint.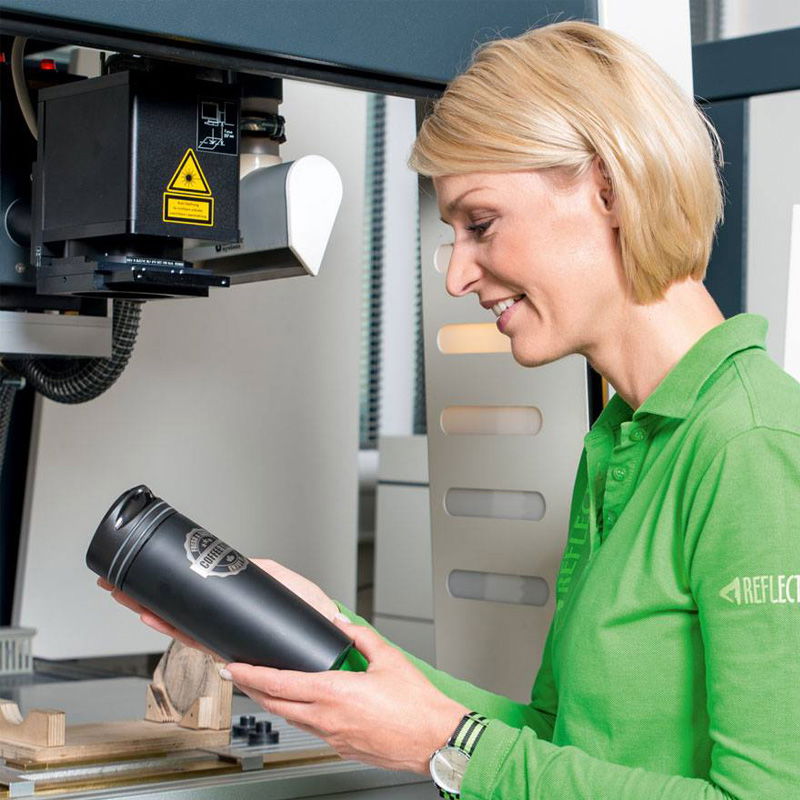 The results speak for themselves: a glimpse into our enhancement department (work preparation).
We refer to our work preparation as enhancement. This is the link between sales, the customer and production. This is where we use great finesse, methodical work and persuasiveness to ensure that our customers don't miss out on their memorable customer experience, perhaps due to a delayed delivery for instance.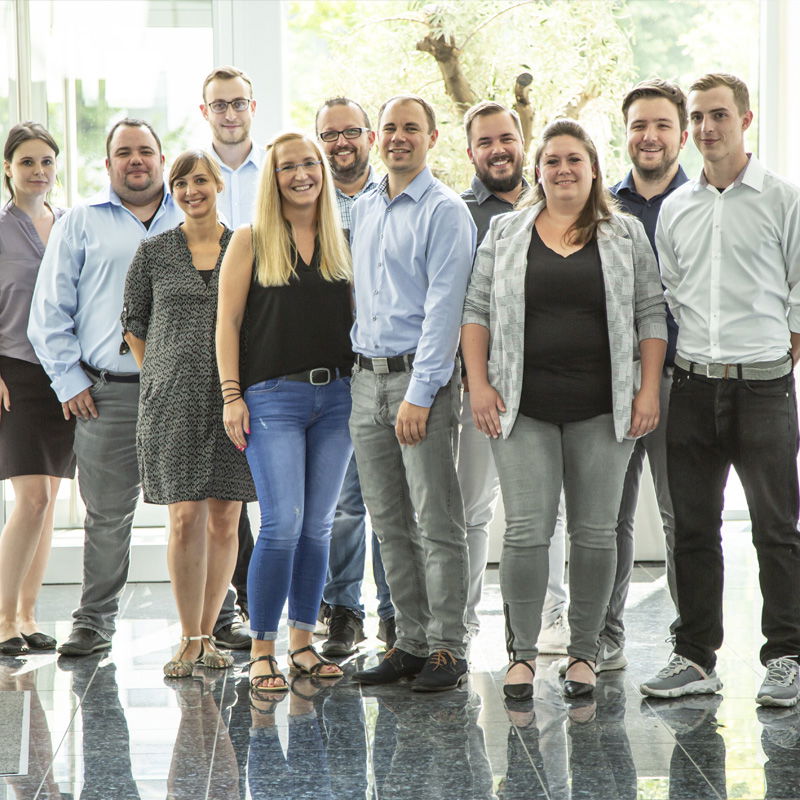 Better together: a glimpse into our purchasing department.
In the purchasing department, several colleagues deal with purchasing matters. This normally involves Asian suppliers, but also some suppliers from Europe. The purchasing department is of fundamental importance in a trading company of our size. It is where we fight on a daily basis for on-time delivery of our products, optimum purchasing terms and a large, extensive range of performance parameters of our suppliers.
Topics taught and qualifications:
Multi-layered, varied and interlinked.
Since we're on the subject, we will address a question that is important for potential applicants: what qualifications do I need to have if I want to work for REFLECTS®? There is no set answer to this question. The qualifications can vary depending on the area in which we are recruiting.
Generally speaking, team skills and multi-layered and interconnected thinking are extremely important. A certain tenacity paired with ambition and perseverance is also an advantage. People who work at REFLECTS® tend to be generalists – people with more multifaceted skills and interests. Of course, people who are complete specialists also have their place, for example in IT or finance.
This leaves the question of what you can actually learn at REFLECTS®. The answer? A whole lot. As a medium-sized, owner-operated company, we deal with new challenges every day. For example, the market conditions change faster than we would prefer. As all of our divisions work hand in hand in close collaboration, they work well as an interlinked, coordinated team. It is always a matter of not losing sight of the big picture, bringing the right people on board and working even in the face of uncertainty.
If this is something that appeals to you, you could be a future employee. And we do, of course, ensure that you receive further training and offer corresponding positions, where necessary and advisable.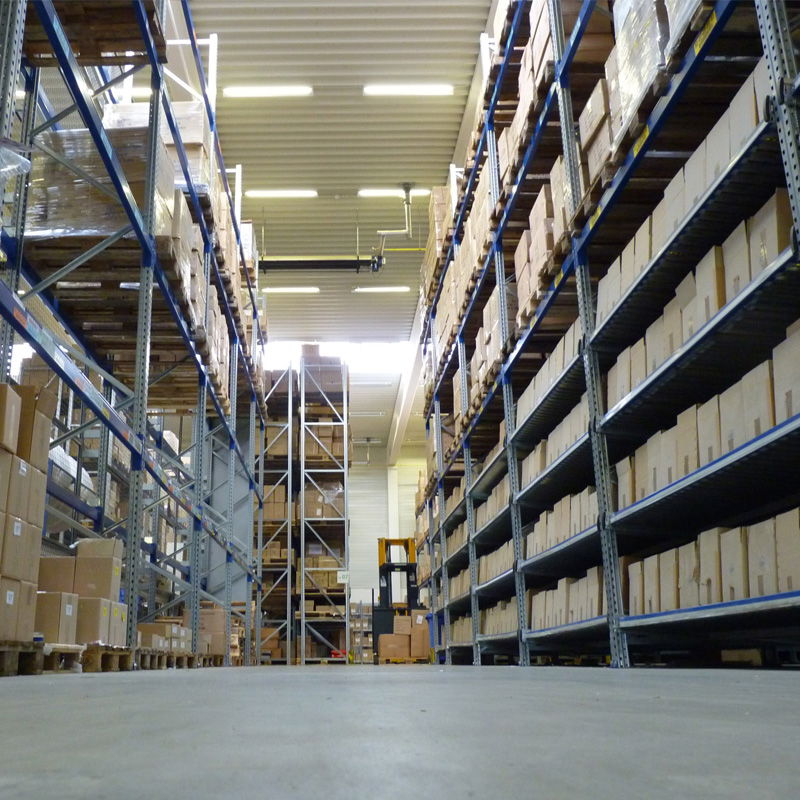 Community, group work, sharing ideas
Our working day generally starts between 8 and 9 a.m. depending on what department you work in. And, of course, there are always occasional exceptions. We are rarely open to the public. We normally communicate with our customers by phone or e-mail. Most of our offices are team offices. You will struggle to find any open-plan offices in our company.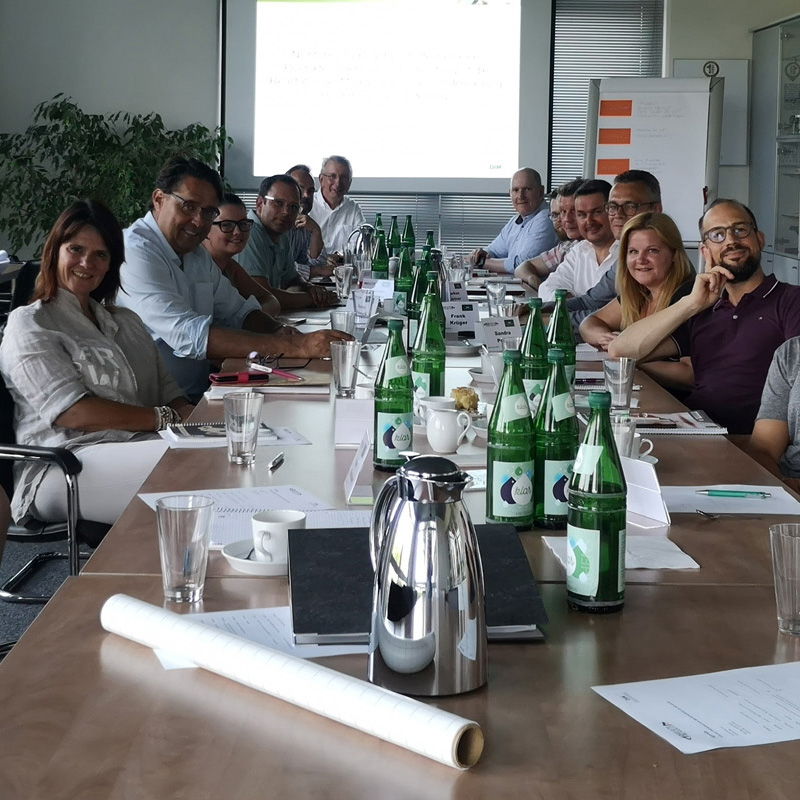 Together for success
Image of an office with several people showing that we have electrically adjustable desks.
Group work in a team and open, creative exchange of ideas are highly important for us. We provide appropriate equipment for this in our meetings and strategy talks.
Our staff generally spend their work breaks together in the unstaffed canteen or use the infrastructure outside the building.
The future of REFLECTS® and the sector:
Top prospects for good business.
We see the future of the promotional item industry as particularly positive. The sector has greatly increased in value in recent years – now with an annual revenue of €3.5 billion in Germany. Studies have confirmed that promotional items are increasing in popularity. Particularly at a time when our lives are becoming more and more digital, people have a desire for something physical. Something they can touch and thus actually connect with.
We believe that this will give promotional materials a further push. As one of the leading companies on the importer and manufacturer side, we believe we are very well placed for further successful growth. Our clear market position, future-focused vision and motivated workforce are guarantees of success.
REFLECTS® at trade fairs: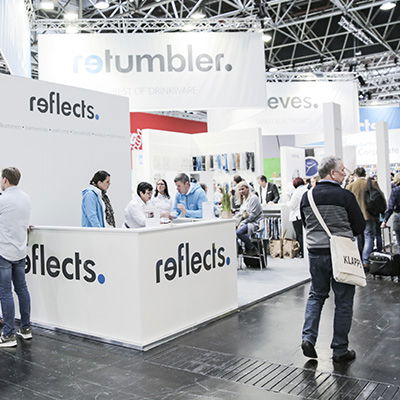 A strong presence with strong products
Our main trade fair is PSI in Düsseldorf, the leading European trade show for the promotional product industry. As one of the sector's leading companies, we exhibit there with a stand over 300 square metres in size. In this environment we make contact with our customers and strengthen our friendly relationships with them – a very special event every year.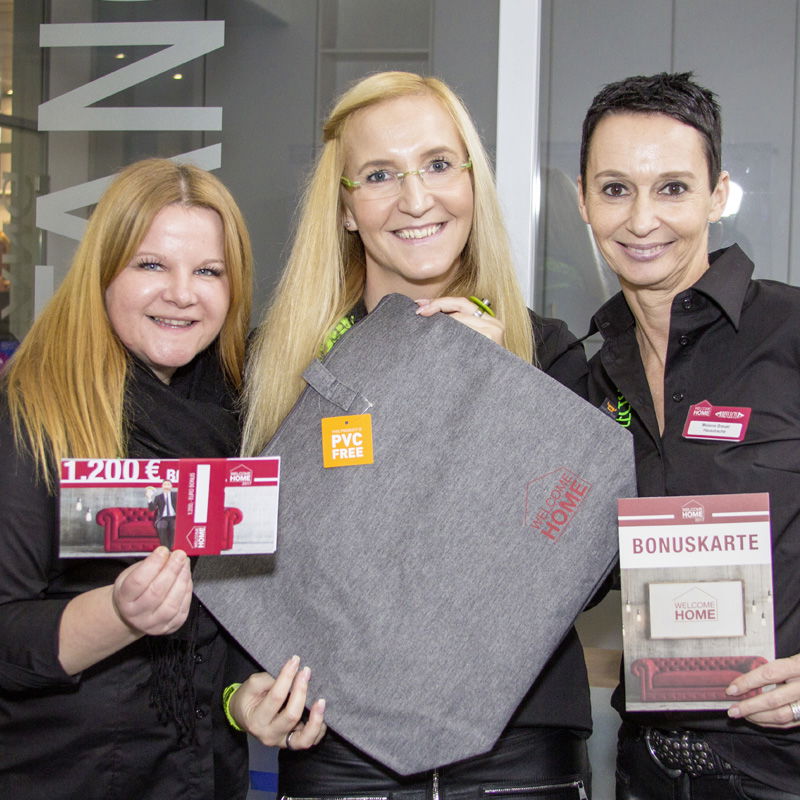 Also on the road internationally
As well as PSI, we exhibit at other national and international trade fairs, for example in the Netherlands, France and the UK. We also take part in various in-house exhibitions and roadshows.
REFLECTS® in social networks: