Lanyards
A strong bond between you and your customers
These eye-catching and high-quality lanyards are true organisational talents with a high utility value. The promotional item is particularly popular as a key holder or practical lanyard to which tickets or ID cards can be attached. Lanyards prove their worth time and again at trade fairs. This means that trade visitors always have their trade fair badge at hand and do not have to search for it in their bag or backpack.
In addition, lanyards also fulfil a secondary benefit that companies appreciate – printed lanyards are "advertising to wear around your neck". As advertising ambassadors with countless design options, they have a high brand presence and optimum advertising effectiveness.
When it comes to "your" customised lanyard, there are no limits to your imagination – whether it's the materials, colours, printing techniques, bandwidth, connector or the safety buckle (such as a carabiner with ID cover or mobile phone holder).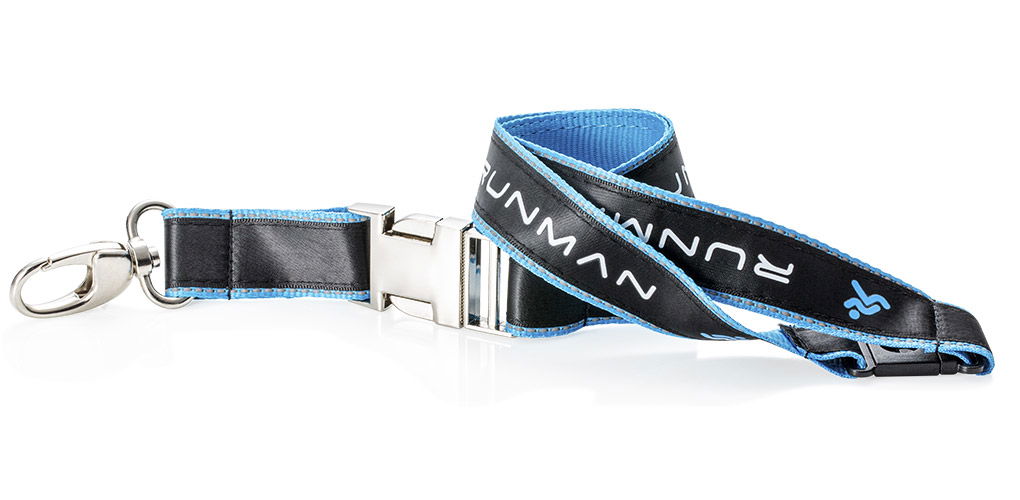 LAN FP20-102
Material: Flat polyester
LAN FN20-102
Material: Flat nylon
LAN WP20-102
Material: Woven polyester
LAN TP10-102-601
Material: Tubular polyester
LAN HT20-102
Material: Smooth polyester
LAN PC7-102 ELASTIC LABEL
Material: Polyester-cord, 2-coloured
LAN WC7-102 ELASTIC LABEL
Material: Wooly Cord, 2-coloured
LAN FPS25/20-116-700
Material: Flat polyester with satin label
LAN FPWL25/20-116-700
Material: Flat polyester with woven label
LAN CP25-116-720
Material: Polyester checkered pattern
LAN CTN20-102
Material: Cotton
LAN BAM20-102
Material: Bamboo
LAN RPET20-102
Material: Recycelted PET
LAN CK20-102
Material: Cork
FLAT
POLYESTER
Synthetic material
Polyester stands out for its durability and inexpensiveness
It has a high stability and flexibility and therefore is durable and tear resistant
Fibers can easily be dyed
FLAT
NYLON
Synthetic material
Finer weaving compared to polyester
High durability and stability
Tear-resistant
Glossy surface makes the nylon strap look high-quality
SMOOTH
POLYESTER
Synthetic material
The strength of the strap makes it extremely durable
Fine and soft surface texture
The soft surface is perfect for film printing or heattransfer
Gloss gives a high-quality look
TABULAR
POLYESTER
Tabular polyester fits around the neck and comfortable to wear
Ideal for silkscreen printed logo
WOVEN
POLYESTER
Synthetic, durable material
Elegant and fine to the touch
The logo blended in with the materials
Multicolour weaving of the polyester strap is also possible
FLAT POLYESTER
WITH SATIN LABEL
Polyester strap in combination with an elegant glossy satin label
The premium satin label is a significant upgrade to the polyester strap
FLAT POLYESTER
WITH WOVEN LABEL
Flat woven polyester merged with Web-label is an ideal platform for your advertising message.
Structured and resistant material
DENIM
Basic material: denim
Durable cotton fabric
Denim fabric is trendy and looks casual around your neck
SILKSCREEN PRINTING
Almost every lanyard can be printed up to 7 colours with silk-screen printing. The silk-screen printing process is a widely used stencil printing process.
By using a rubber blade the logo is pressed through a fine-meshed screen direcly onto the lanyard.
WEAVING
Weaving is one of the oldest techniques when it comes to the production of fabrics.The threads – the longitudinal thread on the one hand and the transverse thread on the other – are interwoven at the right angles.
HEAT TRANSFER
For a transfer printing, the logo is printed on a carrier film first. With the aid of a transfer press the logo is eventually pressed at high temperature onto a white polyester base material. The high temperature press makes the surface structure of the lanyard smooth. The graphics is printed with CMYK colours.
3D-PRINTING
In a 3D printing process, multiple applications of a transparent base make the motif three-dimensional and in relief. In this way, your advertising is not only beautiful to look at, but feels pleasant to touch. 3D-printing also allows multicolour variants.
SILICONE PRINTING
Silicone printing is similar to 3D printing but the silicone is applied to the strap to make the logo appear in relief. Silicone printing looks particularly striking with lettering.
EMBOSSING
Using an embossing mold, the logo is thermo-mechanically pressed onto the lanyard and thus is very durable.
OFFSET PRINTING
We are able to create logos with colour gradients with offset printing, however, this is only possible on parts of the strap. Since offset printing only covers the spots where the logo is printed, the structure of the strap – unlike with transfer printing – stays unchanged.
METALLIC FOIL PRINTING
Metallic foil printing is possible on smooth polyester material. In this case, the logo is applied to the lanyard with a metallic foil with glossy gold or silver coating by pressure and heat.
RUBBER LABEL
When producing a rubber label, liquid rubber is molded in one or two layers. The hardened, flexible label is sewn onto the lanyard using the grooves on the edges.
DEEP WEAVING
The logo is woven into the strap by using different weaving method. This creates a relief-like structure on the lanyard.
LANYARD WITH REFLECTIVE SEAM
A yarn, containing particles that reflect the light back at the same angle is woven into the lanyard.
REFLECTIVE STRAP
The particles in the reflective foil reflect the light back at the same angle. The foil is then applied on a polyester strap and then customised with a silkscreen print.
LUMINOUS SILKSCREEN PRINTING
The glow-in-the-dark effect is created with a luminescent colour in silkscreen printing. The colour includes pigments that are activated with UV light and slowly fade when the light source is extinguished.
PLATING
Plating is a technology that originates from metal processing, whereby the accessory is coated with a durable coating. It is often referred to as ion plating, which makes attachments such as metallic carabiners or connectors shine in gold. A gun metal plating is also possible. This coating creates a stronger protection of the surface ensures a stylish appearance.
ANODISING
Anodising is a surfacing technology in which an oxidic protective layer is applied to the aluminium base material. This technique allows different colours to be applied to aluminium based accessories. Anodising is only possible on aluminium surfaces and – in contrast to plating – no coating is applied to the material.
COLOURING
To achieve a higher advertising impact, our plastic accessories can be easily dyed to Pantone colours. The wide range of colours ensures a CI-compliant product and allows colour matching of the lanyard with the accessories.
LASER ENGRAVING
We recommend laser engraving of the logo on metal connecting pieces for a stylish, yet unintruding effect. Laser engravings on metal connectors are popular, frequently chosen addition to the usual customisations of the lanyard.
SILKSCREEN PRINTING
The plastic connectors can be utilized for additional logo placement by silkscreen printing. As it is a prominent area, the accesory appears even more individual, reaching full advertising effect.
DOMING
The doming technique is used to create a three-dimensional, decorative and curved area on a flat surface. Viscous epoxy is applied to a sticker and then hardened under UV-light, which makes it a doming sticker. A common application of doming is on the designated area of a ski pass holder. There are further possibilites to apply a doming sticker to selected carabiners and connectors.
Configure your individual lanyard