LUMINOUS COLLECTION
We make advertising glow!
Discover the REEVES® LUMINOUS COLLECTION!
Whether individually or in a group: Our articles of the LUMINOUS COLLECTION are a shining eye-catcher!
The backlit advertising space combined with laser engraving makes your logo shine effectively.
What do you mean by Luminous?
Branding spotlights
Our Luminous collection is advertising for you even in the dark. Attract attention? Of course! The illumi-nated advertising space in combination with laser engraving makes your logo shine strikingly.
Light underlines the special appeal of your product and gives the contours of your logo the extra sparkle it deserves.
How does the light get into the product?
To make the light behind your logo shine, a part of the surface in the shape of your logo is carefully ex-posed with the laser. If your product is connected to electricity, you can activate the light function.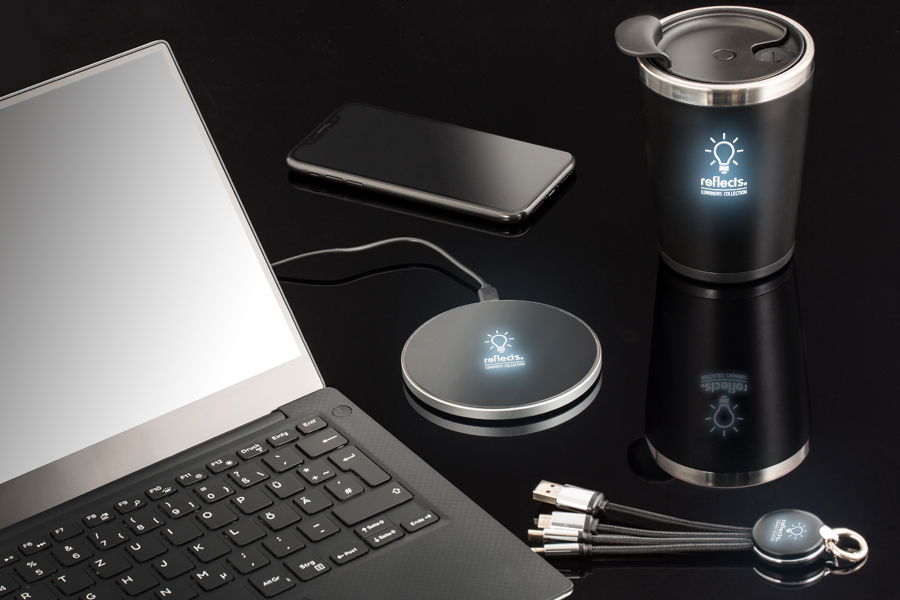 Laser engraving - The "Queen" among the finishing techniques
It shines silver, copper, shimmers subtly matt metallic or highlights material structures: a laser engraving has personality, is simple and noble. It turns a key ring or ballpoint pen into a piece of jewelry, personal and carefully selected.
Advantages of laser engraving
Details are always precisely and clearly worked out. Especially metal articles, but also other materials such as felt, leather, glass, wood and various plastics benefit from this type of finishing.
High standard
To guarantee laser engravings at the highest possible level, you need well-trained staff and very good technical equipment. The choice of the right laser device and a combination of different laser techniques for different tasks are advantageous. For example, Yag lasers, fibre lasers or CO2 lasers can be used.
Yag lasers are suitable for a wide range of different materials, especially because of their high peak power. They are used primarily for engraving metals, selected plastics and types of leather. A fiber laser offers a similar bandwidth, but can also be used for even more types of plastics. CO2 lasers are suitable for processing natural materials and acrylic.