15 watts wireless charger with various material options - REEVES-PEORIA 52501
The powerful REEVES-PEORIA wireless charger is a high-class and optically attractive promotional item for smartphone-savvy customers. The wireless charger with up to 15 watts output power is available in five different versions: In cork, bamboo, plastic, aluminium, silver anodised or aluminium, black anodised. The selectable variants are processed as solid material and differ perceptibly in weight and structure. The white inlay is made of plastic and can be optimally customised by using the entire surface for UV printing. Customised product samples are available from Cologne.
You would like to avoid hours of loading? The powerful charger supports fast charging up to 15 watts output power. The USB-C connector of the device is embedded in the material in a form-fitting and protected manner to ensure that the charger is safely in place. A 1 m length of USB-C to USB-A charging cable is included in the scope of delivery.
REEVES-PEORIA is sourced as a direct import from the Far East. Minimum quantity is 100 pieces.
Ask our sales team for more information!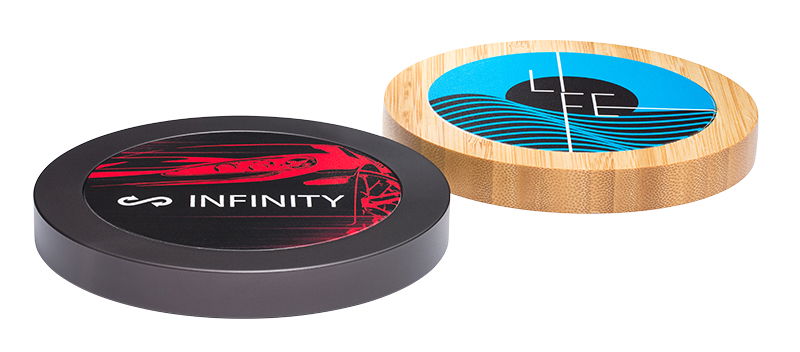 Perceptible differences
Order your customised product sample to learn more about the charger and to feel the difference between natural bamboo and cork or high-class, heavy aluminium.